About Me
---
August 7th,1999 made it official. I became a Ferrari owner. I found a 1963 330GT America in Roanoke, VA mostly disassembled, and brought it back to NY where I put the car back together.
When I bought my Ferrari, I was an audio engineer in New York City, working for a television show called "Late Show with David Letterman." After 12 years with Dave, and 18 in television, I decided in 2005 to make some changes. I quit my job, sold my apartment in NYC, and booked tickets to Australia for me, my wife, and 2 year old girl. Our plan was to drive across a country that we've only read about in books for about 6 months, exploring the land, and ourselves.
After my return from Australia, my life changed. François Sicard, the Ferrari Restorer who helped me put together my 330 America, offered me a job. This site features what I love, Vintage Ferraris. I feel that this job is more like an apprenticeship because I have so much to learn from François. This site documents the process of restoring my own Ferrari, as well as many others. I hope to share the trials, and tribulations of Ferrari ownership with you!
Here's what it looked like shortly after I got my car.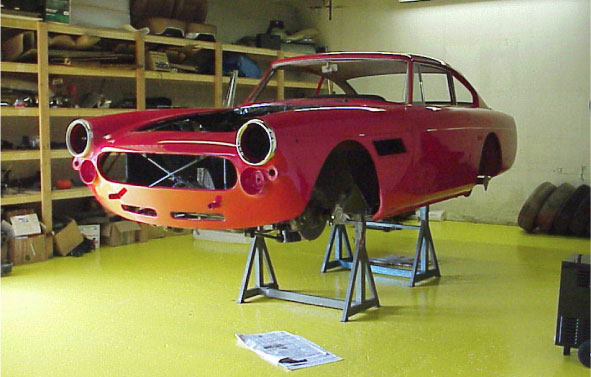 Three years later, I've gotten this far!
Today, I live in the Hudson Valley of New York, and split my time between my Mentor's shop in Connecticut and a personal shop in New York. I'm doing what I love for a living, which is working on Vintage Ferraris and keeping the Vintage Ferrari Community connected. The blog has surpassed 20 years of existence, and continues to follow my life with old Ferraris!