Finally, a Day to Paint
9/14/99
Finally, a Day to Paint!
I finally got a dry day to paint the engine compartment. It was a day before hurricane "Floyd" was going to blow up the east coast, so it was now or never! I got "underhood black" from "Eastwood Co." because I felt that it would have the right semi-gloss look I needed for the engine compartment. The sheet metal under the hood is not perfect, because it was never perfect from the factory. The wavy sheetmetal remains, but at least it's the right color, and finish!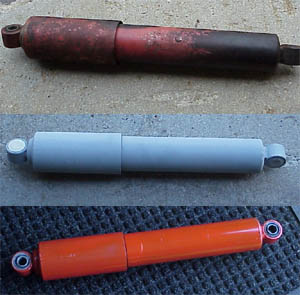 One more shock was cleaned up and painted orange. I've been using a milk crate to hold my parts while I paint them, but I'm beginning to think I need to build some kind of stand to hang parts from as I spray paint them. Hmmm..I think it's time to raid the carpenter's scrap pile again!