Steering Wheel Refurbishing
Steering Wheel Refurbishing 10/4/99-present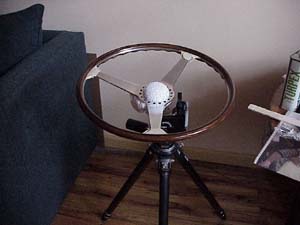 I've buffed the aluminum spokes as best as I could, and it looks pretty good. It's now time to work on the wood rim. I wanted to hurry up and get a coat of varnish on the wood because the bare wood was starting to dry out, and I was afraid it was going to start de-laminating. I already had to re-glue and clamp one small section that had begun to lift.
I needed to find a suitable platform for the steering wheel before I began varnishing. I considered making a special stand, but soon decided to find something that already existed. I found that my tripod would make a perfect stand. I just hope I won't need to use the tripod for picture taking in the next week or two!

Although I had many different suggestions on what I should use to refinish the wheel, I decided to use what I had seen on another wheel that had been re-done. Marine spar varnish that has UV inhibitors seems to the stuff that will last. It will have the correct gloss finish, and can be applied with a foam brush. I hope I chose wisely.
I bought a whole bunch of small foam brushes and some 600 grit sandpaper, and began masking off the spokes of the steering wheel. I couldn't wait to start varnishing, but I knew that I had to do a good job with the masking.
The grain of the wood is really coming through from the varnish, and it's really looking great. I let the first coat fully dry and sanded some of the rough spots. I may have to go to a finer sandpaper, but the second coat seems to cover the sanded surfaces pretty well. Dust is going to be my biggest problem. I'm doing the varnishing in my house to keep the dust down, but each coat seems to always trap a few dust particles. I sand them down, and re-coat, but I'm going to have to figure out what I'm going to do with the last coat. It's probably going to take over six coats to cover all the grain of the steering wheel, so I imagine it'll take a week to finish. Can't wait!
Previous Restoration Day
Next Restoration Day
Ferrari Home Page
www.tomyang.net