Finishing Floorpans
1/28/00 Finishing Floor pans

The driver's side floor pan is nearing completion. The panel bonding adhesive worked great, so I could now attach the gas pedal to a secure mounting point.


The gas pedal was originally mounted to the floor along with a steel backing plate to reinforce the aluminum floor pan. With the new pan in place, I drilled mounting holes through the floor and aligned the old steel plate below. I mixed up some more panel bonding adhesive, and glued the steel section to the bottom of the floor pan, and pop riveted the whole assembly together as it was done at the Ferrari factory. With the glue, the gas pedal is secured better than new, and should not fatigue as the original set-up. I figure if anything should work without fail on a Ferrari, it should be the gas pedal!

The passenger side floor pan was pop riveted and glued in place without any trouble except for dragging my sleeve through the epoxy! The original reason for using the bonding adhesive was with the right side floor pan. The previous owner had cut the forward section very close so that there isn't a lot of aluminum to attach the new section. I knew if I only pop riveted the new section, the aluminum would not hold for long before it would split. When I read about the abilities of panel bonding adhesive, I decided that this would be perfect for my application. The pop rivets would help hold the panel in place, and the adhesive would bond the whole edge of the floor section together. From the look of the driver's side panel, the passenger side panel should be quite secure once the adhesive sets up.

Looking for the next project to get started, I decided to use the new angle grinder I got for Christmas to sand off the rotors. I got a "scotch-brite" pad attachment for the grinder, and began polishing up the rotors. François feels that I can try cleaning up the discs first to see how they'll work before replacing them. I really can't get them turned, because they'll probably be too thin for specifications, so I'll try this for now before trying to buy new rotors.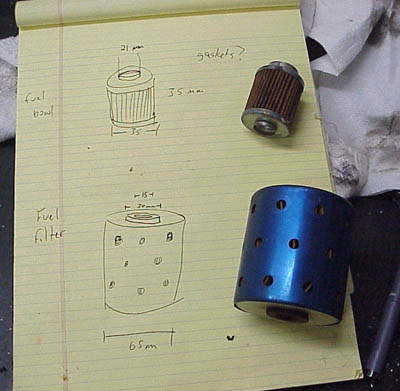 When the gas tank comes back from being cleaned and coated, I'll be able to put the fuel system back together, so now is a good time to order up some fuel filters. I'm going to give "Partssource" a call on Monday to order these parts along with rear hub seals. I took measurements of everything so I could accurately order these parts. I even drew diagrams in case I have to fax Partssource a picture. Now think about how bad I would draw if I didn't got to art school!
Previous Restoration Day
Next Restoration Day
Ferrari Home Page
www.tomyang.net