Grille Fabrication II
2/1/00 Grille Fabrication II
The .090 die and punch came from the tool and die supply company last week, so I dropped them off at the CBS Construction Shop. The punch will cut the slots necessary for the horizontal and vertical sections to "egg crate" together. These parts were specially ordered to fit the 30 ton press we were going to use.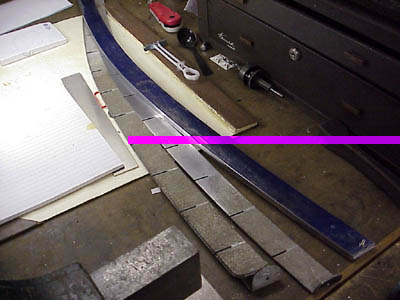 Rudi was out on a job, but on his work bench were the beginnings of the horizontal pieces for my grille. These pieces were a little bit more complicated to make compared to the vertical pieces because of the bend in the grille, but from the looks of it, Rudi didn't have a problem. He must have sandwiched a few layers of aluminum (the blue piece) and cut them all at once. There's a bolt at each end of the flat stock to hold them all together. The trick now will be to make some kind of jig to hold the horizontal pieces to cut the slots parallel to each other, but I'm sure Rudi has a plan.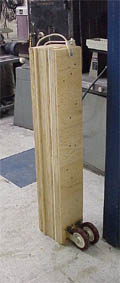 Last week I made a buck from plywood at the Ed Sullivan Theater. This is for the oval grille opening that is also made out of aluminum. Although Ferrari originally made this section out of a huge tube of aluminum, we can't get those sections anymore, so we will have to make one out of sheet aluminum. When the metal is shaped over a wooden buck, heli-arc welded, ground smooth, and polished to a shine, no one will know the difference.
I think the carpenters at work are tired of me asking them to help me cut up wood, so they let me use the table saw without adult supervision! I promised the head carpenter not to cut off my fingers, and went to work! I cut a whole sheet of 3/4″ plywood into 48 inch sections. I then glued and screwed all the wood together to form a solid block of wood. Once the block was made, it became a little too heavy to manage easily, so I lag bolted some dolly wheels to it so I could move it the seven blocks to the CBS construction shop! After I got some strange looks from CBS security at the front door to the broadcast center, I humped it down to the shop This block will be cut on a large bandsaw to the shape of the new grille. Hopefully Rudi will wait for me to be there when he does this, because I'd love to see how it's done! Stay tuned!
Previous Restoration Day
Next Restoration Day
Ferrari Home Page
www.tomyang.net