Motor and Transmission
9/22/00 Motor and Transmission
I stopped by François' again today before I went to my shop. I love seeing progress on my engine, and François seems to have a good momentum going on completing my engine. The valves have all been adjusted, so the valve covers have been mounted. François mentioned re-doing the valve covers because he didn't like the way they came out. They looked perfectly fine to me, but he pointed out some blemishes that he would like to eliminate with another coat of paint. I guess this is why he wins "Best of Show" awards when he prepares a car.
François also showed me several nuts and bolts I should be on the lookout for at my shop. As this engine was "rebuilt" by the previous shop, many specialized fasteners were missing. I can replace them with any metric part, but François would rather have the correct parts. So far, I've located 16 of the 20 bronze nuts that secure the exhaust headers, but haven't had much luck finding the cap nuts for the intake manifolds. I'm also looking for the bolts to secure the pressure plate, but I'm not quite sure what they even look like. As things are slowly bolted back onto the car, my coffee can full of loose bolts and nuts is getting smaller, and hopefully all the right pieces will screw into place!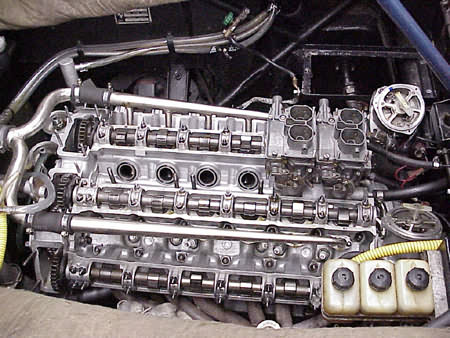 Another cool thing about François' shop is the variety of cars he has there at any given time. Today he had two 275 GTBs and a 275 NART spyder! A national Ferrari meet would consider themselves fortunate to have such a representation! Each car was in François' shop for various mechanical repair, and I snapped this picture of the NART spyder's motor with it's cams exposed. If you have to ask why this picture is cool, then you're not a gear head! This engine, like all Ferrari V-12s is a work of art! I love the way the distributors are canted inboard of the heads. Was there a technical reason for this, or did Ferrari do this cause it looks soooo cool? Probably both!
While I was at François', I took advantage of the time to make something on his lathe. Last week when I was cleaning up the transmission, I looked inside the overdrive shift linkage compartment. Inside were remnants of a rubber bushing that kept the linkage from bottoming out in the transmission case. This bushing also filled a hole in the overdrive case that would let gear oil leak out if it wasn't there. I decided to replace this rubber bushing out of one made from that miracle substance called teflon. It's small projects like this that will get me comfortable with the use of the lathe, so I here it is:
It fit quite nicely after some trimming, and cutting. Now every time I shift into overdrive, I'll be imagining my little bushing doing it's job!
While this area was apart, I also made a new gasket to replace the old cork gasket that was squished to death. I'm leaving it off for now until I after I paint the transmission.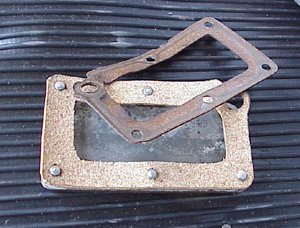 Locating the right paint has been really a problem! I even went to François' hardware store where he normally buys it, and they were out! I bought some "Krylon Aluminum," even though François says to use the "dull aluminum." I figured I would spray on the shinier of the two paints as a base coat and when I finally locate a can of the "dull aluminum," I'll put on the final coat with the right stuff. I masked off all the nuts on the transmission, and wiped the whole transmission with lacquer thinner to make user there was no grease, and began painting. Although the transmission is a little too bright right now, it sure is looking good!
Previous Restoration Day
Next Restoration Day
Ferrari Home Page
www.tomyang.net