Interior Pieces
12/6/00 Interior Pieces
After almost a year since anything has been done on the interior of my car, I can gladly report progress is being made! I stopped by East Coast Auto Trim to pick up the center console, and see what else has been done. It was also the first time I had a chance to see the color of the leather I bought. It matches the original color, and I think will look great (as long as I don't drink grape soda in the car)! Frank has the rear panels, and some of the kick panels done, and will soon be starting on my seats. I may spend a few days at his shop in the following months to photograph the process, and maybe even put some work in on my seats! We agreed that eventually my whole car should be delivered so he can fit the carpeting, and some of the other leather covered panels. I asked him how he felt about the ready-made carpet sets I've seen available for Ferrari 250GTEs. He felt that not knowing where they got the patterns from, he could never be sure how well they would fit. Also, since not two Ferraris are alike, it's always better to have carpets custom fit. Knowing parts of my floor pans have been replaced, I will feel much better having Frank fit each piece of carpet than risk having ready-made carpets fit poorly. It will be money well spent.
On the way back to my shop, I stopped by François to pick up my chrome pieces that he picked up from the platers. It seemed like an awfully small box of parts that cost me over two grand! As I was unpacking the individually wrapped pieces, I remembered a dream I had several years ago, and how it foreshadowed my life today!
I dreamed that I was living in a dingy, drafty apartment. My wife, and children were huddled together for warmth as I returned home with a package under my arm. I excitedly opened the box and began to show off these gleaming new car parts to my family. They all tried their best to look enthusiastic, all the while knowing that these parts were the reasons why they would go hungry tonight. I awoke in a cold sweat!
Today, I'm not married, and have yet to have kids, but my fiancée has made all sorts of sacrifices for this car. Looking at all these beautifully chromed pieces of metal brought me back to that nightmare, but the reality is we're not starving…yet!
I had taken a picture of all the chrome pieces before I sent them out, so as I unwrapped all the pieces, I laid them out in the same way they were originally photographed. All pieces were accounted for, and man were they looking nice!
I can now see why François uses this chrome plater exclusively. The quality of the chrome is superb! This corner piece I'm holding in my hand was bent, and dinged up when I sent it to them, but now it's smooth, and straight. It's almost a shame to put it back into service!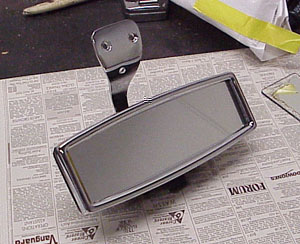 I started putting the rear view mirror together now that the frame is newly plated. Luckily François stopped by my shop just as I was about to give up, and showed me the correct assembly procedure. The mirror had a day-nite mechanism, and was a little tricky to get right. I had to be very careful in putting it all together with the risk of cracking the glass and mirror every step of the way. On top of not breaking anything, I also had to be careful not to get finger prints on the internal pieces of glass or mirror, because once everything was sealed up, I would have to look at my grubby fingerprints every time I used the mirror!
The next project was to start putting the center console back together. As you can see from the picture on the top of this page, all the holes for the radio, heater controls, and electric switches had yet been cut in the newly re-upholstered leather. I got my sharpest x-acto knife and began cutting. I wasn't too comfortable at first cutting the new leather, but soon got over my trepidation. I still have some work to do on the heater controls, but I trial fitted the radio just to see how it would look. I'm pretty excited!

The sheathed cables for the heater controls were in pretty bad shape, so I'm going to try and replace them. I measured the two pieces, and will first try a bicycle shop. I'll let you know what I find, unless you know of a good, cheap supplier?
Previous Restoration Day
Next Restoration Day
Ferrari Home Page
www.tomyang.net