Planning Ahead
1/5/01 Planning Ahead
Restoring a car takes a lot of planning. Parts need to be ordered ahead of time so that they arrive before I begin work on that particular area. Sometimes my work can come to a screeching halt because I don't have a screw, or correct sized bolt. This week, I'm hampered by not having the window felts. Admittedly, with the holidays, I was a little distracted from my restoration. Of course this was not by my choice, but I had t take a few days off. Suppliers also take these days off, and getting restoration parts shipped with all the other Christmas orders was a bit of my concern, so I decided to wait until after the Christmas rush.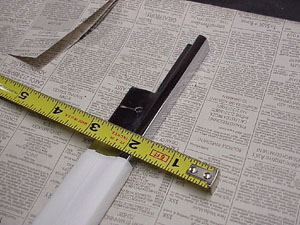 Last week, I did some research on the window felts, and came up with Re-Originals, in Texas. They come highly recommended by the Ferrari community, so I decided to get a catalog. They are one of the few companies that do not have a web site, but I decided not to hold it against them! Their catalog came in short time, and I placed an order for the felts, but they'll probably arrive by next week's restoration day. The felts are 1/2-5/8 inch in width, so i think they'll fit fine. While I was up at the shop today, I measured the chrome pieces that they'll attach to, and everything looks good.

inner mounting point
As my seats are at the upholsterer, I'm starting to think about the rest of the interior. While the carpets have yet to be installed, now is the best time to think about seat belts. Although I've been inside my car hundreds of times, I never really looked at the floors in regards of seat belt locations. On the center drive shaft tunnel, there are mounting plates that look good for seat belts, but there was nothing for the outside mounting points. The previous owner had made some rocker panel repairs, but no provisions were made for mounting points for the seat belts.

no outer mounting point
I could have a bracket welded to this inner rocker panel, but I don't have a welder, and the car is obviously not moveable. Another solution is to do as François did on another Ferrari where he bolted the seat belt mount to the floor pan and backed it up with a large washer.

floor pan mounting option
These considerations have only been for lap belts, which are the minimum requirement in NY State motor vehicle inspections, but a three point seat belt is what I'd really like to install. Lap belts are fine in keeping you from going through the windshield, but will do nothing about keeping your face out of your steering wheel! I'm really not a morbid guy, but as I get older, I think about these things!

Possible third mounting point?
The problem with a three point seat belt is these cars barely had provisions for a two point belt! I looked at the B-pillar, and felt that it's strong enough for a mounting point, but a mount would have to be welded in place. I also found another mounting point in a plate that had two threaded holes in the car. Were these originally intended for some kind of mount? After looking at the height of this mounting point, I decided it would be too low to do any good as a third point. The thinking continues!
I left the shop early today to beat the snow. The forecast called for light accumulations, but I wasn't in the mood to get stuck in traffic because of the slippery conditions. Here's a shot the FDR drive in NYC heading southbound. Not the best place for a car enthusiast where open roads and light traffic beckon!