For Gear Heads Only
3/25/01 For Gear heads Only
I stopped by François' shop today for a visit, and what sight there was to see! He just received a Ferrari 312F1 car to get into running order! I love race cars, and a vintage Ferrari race car is such a treat to look at!
A brief lesson on this car: 312F1, 12 chassis numbers, built from 1966-1969, 3 liter, 60 degree V-12 in 24, 36, and 48 valve versions that began with 360 bhp, and ended with 436 bhp.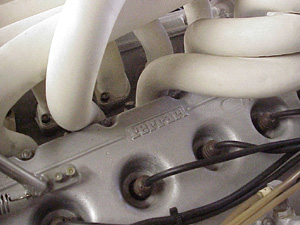 I spent a good half hour looking at all the engineering with my nose five inches away from the car! Race cars are interesting to me because everything is about function. There are no superfluous parts. Everything is there because it's supposed to be there, and because it works. Form hardly ever follows function in a race car. Ferrari, however, still manages to make a very beautiful piece of machinery, even though it was probably by accident!
The cockpit is all business too, and is pretty rudimentary compared to the F1 office of modern day race cars. Check out the tiny shift lever on the right.
BTW, I added some more Ferrari Stories.
Previous Restoration Day
Next Restoration Day
Ferrari Home Page
www.tomyang.net