Gaskets, Glove box, and Blower Motor
3/30/01 Gaskets, Glove box, and Blower Motor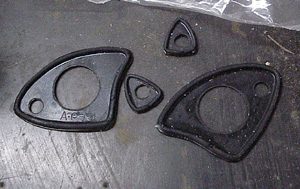 The door handle gaskets came from Metro two weeks early! They said it would take three weeks to make up a set for my car, but I only had to wait one week. There was a little bit of extra material in some places from the mold, but all in all they look pretty good. I carefully trimmed some of the excess off, and installed one door handle.
The installation was no easy task because I had to go and find the right hardware. I would have loved to use stainless steel fasteners, but I have not found a convenient supplier. People have e-mailed me with suggestions of trying a marine supply store, but a "West Marine" I tried only had SAE nuts and bolts. I did find a supplier for stainless hardware in CT, but they're a hour's drive away from my shop! I decided to use zinc plated hardware found at my local auto parts store for now, and make a master list of stainless fasteners I'll need, and make one trip or get them mail order.
While I was out looking for nuts and bolts, I stopped by a tool rental company to find out how much it would cost to rent an engine hoist. Yes, we're actually getting closer and closer to putting the engine in the car! François actually doesn't have one because his shop is equipped with a chain hoist attached to an I-beam. We'll probably have to bring the car down to a lower set of jack stands so the "cherry picker" engine hoist will clear the top of the engine compartment. I can't wait for the day we put that engine in!
I also went shopping for some thin gasket material for my transmission. This kind of stuff can only be found in the old-time auto parts stores. I often go to the auto parts chain stores for oil, or antifreeze, but I rarely go there to fix an old car. Nothing is worse than working with some kid that doesn't know the store's inventory, and is only as good as the computer terminal he sits in front of! Heaven forbid he actually has to get up and cross reference a part in an actual parts book! The old-time auto parts stores have a bunch of guys at least 15 years older than me, and can actually remember when the car I'm fixing was new! This is the place I like to shop! They had the gasket material, and it was thinner than anything Auto Zone had in stock.
I wet sanded the clear coat on the freshly painted glove box door today with some 1500 grit sand paper. Now all it needs is a good buffing, and it'll be ready to install. The inner liner of the door is a piece of aluminum wrapped in back leather. I'm going to take this piece down to my upholsterer and glue in a new piece. He should have a small piece of black Connolly leather laying around that'll fit.
The blower assembly was painted, sealed, and installed. You can see it in it's new home just behind the red coils. This was actually no easy task because the coils were in the way. The coils couldn't be moved without unbolting the coil bracket. The coil bracket bolts were obscured by the hood release mechanism, so after an hour of removing and reinstalling, I got the heater blower assembly installed. Time to call it a day!