Glove Box Door, and Transmission
4/6/01 Glove Box Door, and Transmission
I stopped by East Coast Trim and Upholstery to get my inner glove box door recovered with a new piece of leather. I got there early in the morning, so Frank took some time to work on my little project. My seats are patiently waiting their turn to be recovered in the Connolly hides I bought a year ago! He promised he was getting to them soon, and had already finished some of the side panels. I'm still not pushing him because I still need to get my car to a point where I can trailer it to his shop so he can fit the carpet. When that time comes, my seats will become a priority in his shop. Right now, he's working on a 60s vintage Bentley. If my car takes five hides to upholster, I can't imagine how many cows a Bentley takes!
After cutting a suitable piece of black leather, Frank sprays the aluminum panel, and the back of the leather with adhesive.
The two pieces are carefully stuck together, and the leather is stretched over the edges of the panel.
After the leather is stretched in place, the excess is trimmed with a razor blade.
The new inner liner is ready to be installed once I'm done wet sanding and buffing the painted panel.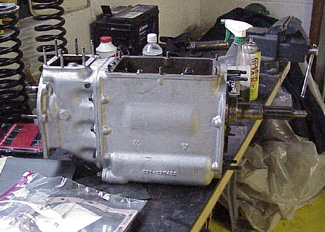 Here's the transmission back at my shop ready to be mated to the bell housing and overdrive. The gasket I made for the overdrive is in the foreground.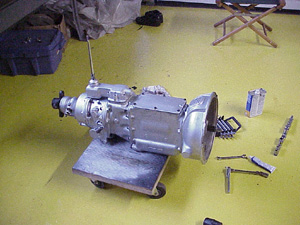 I used a thin coat of RTV on the new gasket, and attached the overdrive, I then moved on to the bell housing. I sealed the places François told me were notorious for oil leaks, and tightened up the all the nuts, and continued with cover plate, and shift linkage. There were no extra nuts or bolts after putting everything back together, so I guess everything is where it's supposed to be. This time, the transmission shifts in ALL gears!
Previous Restoration Day
Next Restoration Day
Ferrari Home Page
www.tomyang.net