Exhaust, Suspension, and Stainless Screws
5/11/01 Exhaust, Suspension, and Stainless Nuts
O.K., the exhaust was not a Ferrari exhaust, but rather my Toyota's! It was kind of an emergency repair because an exhaust pipe sprang a leak, and it drove me nuts for a week before I could get the pipe to fix it.
François' let me work on it at his shop just in case I would need a torch to cut off the seized bolts. You can see my Toyota is in good company with a 365GTB Daytona, and a 275GTB short nose in the shadow of the garage.
I fixed the Camry, saved some money, and got to work on my Ferrari.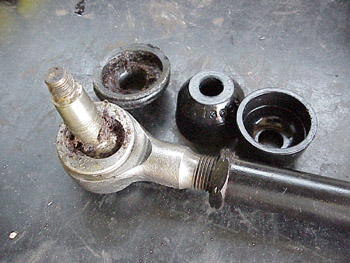 François began tightening the front suspension last week so I could begin putting the hubs, rotors, and brakes back on. He left the tie rod ends and center link for me to do, so I started by cleaning them up. There was no play in any of the joints, but the movement of each piece was very stiff. As I worked the joints, old gummy and dried out grease began coming out of the tie rod end. I removed as much of the old grease as possible, and packed new grease into the ends before installing the new polyurethane dust boots. I'd imagine if all these joints were stiff, they would all add to the overall effort needed to steer this car. Without power steering, any bit of relief is going to help!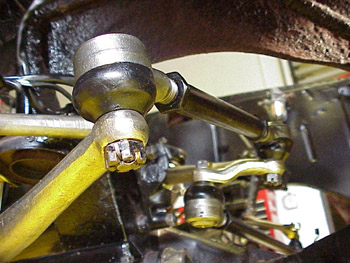 (No, the suspension is not yellow. The floor is reflecting off the nickel plating)
After cleaning the tie rod ends, I began bolting them in place. This procedure would seem pretty straightforward and quick, but it took far more time than I expected. I guess it was because I was taking the care to make sure everything was done right, and fit well. After everything was tight, I installed the cotter pins. These were done as the Ferrari Factory did in the sixties with just the right bends, and lengths cut to size. If you want to review this technique, click here.
A few weeks back I mentioned how difficult it was to find metric hardware in the U.S., especially Stainless Steel nuts and screws. A viewer contacted me and told me about a hardware supplier that could fill small orders, and would be happy to stop by in person and place an order for me. Although "The Nutty Company" was in Connecticut, a visit to the store would have taken me at least half a day, so I took him up on the offer. Well, after some delays, "The Nutty Company" filled my order, and I got them in the mail! Thanks John!
Previous Restoration Day
Next Restoration Day
Ferrari Home Page
www.tomyang.net