Hoses
5/19/01 Hoses
The hoses finally arrived from Partsource, so I began the process of fitting them into the car.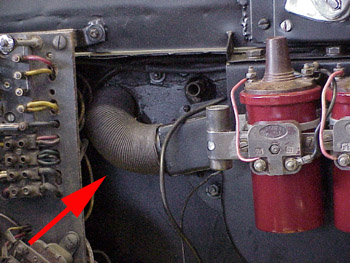 I did the easiest ones first which were the defroster hoses. It was much easier to do this with the dashboard out of the way to get to the defroster vents. Luckily, I had the dash hanging down to complete another project, so everything went in easily. The other end just slid onto the blower assembly as pictured.
The larger hose was for the fresh air supply, but I soon realized I needed to move the windshield wiper motor out of the way to get the hose to pass. Luckily it just needed to be moved a little bit, so totally removing the motor was not needed!
The rest of the day involved doing some more cotter pin installations, and trying to permanently install the dash panel, all of which would have been pretty boring to photograph, so I'll spare you the details. When I get some time next week, I'll get into more details how the dash is installed.
It was late when I headed out of my shop, but I stopped by François' on the way out. He was preparing a car for an upcoming Concourse in Greenwich, CT., and I wanted to see it up close. It WASN'T a Ferrari! From time to time, François will work on something else, but it has to be a special car for him to actually work on it, and this one would definitely fall in this category.
It's a beautiful Alfa Romeo 2.9. This car won the Mila Miglia in the 30s, and was rebodied from the windshield back after the race into this wonderful convertible. I'm not an Alfa expert, but I believe there are only three of these cars? You're looking at a multi-million dollar car.
The engine is an Alfa Formula One engine from that era. It's a straight eight cylinder overhead valve engine with a supercharger. It's pretty unbelievable these engines were designed and built in the 30s!
Previous Restoration Day
Next Restoration Day
Ferrari Home Page
www.tomyang.net