Finished the Heat Shields, and the Shifter Knob
8/9/01
Finished the Heat Shields, and the Shifter Knob
I can finally close a chapter on this restoration by announcing the completion of the exhaust shields! We are in the middle of a heat wave in the Northeast with temperatures breaking 100 degrees Fahrenheit! With all my complaining, there is one positive thing. It's perfect weather for painting wrinkle paint!
I continued making my shift knob by progressively sanding the aluminum with finer grit sand paper. All the file marks had to be removed with coarse sand paper, and the coarse sand paper marks had to be removed with medium grit sandpaper, and so on, and so on…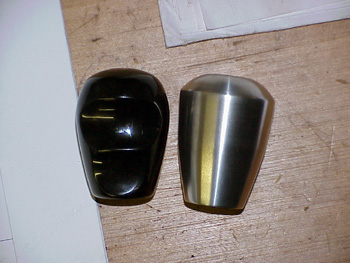 I ended up at 1200 grit sandpaper which can then be buffed without seeing any scratches from the sand paper. Here's a comparison of a original Ferrari Shift knob with my aluminum one. I wanted to keep the slight crown on my shifter because I like the way it looks. If I grow tired of it, I can always remove it in the future.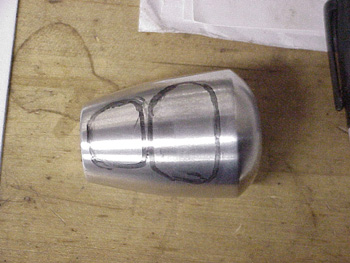 It's far easier to sand a knob on the lathe without these indents, so that's why I sanded first. In this picture, I marked roughly where the finger indents need to be ground out.
After I marked the shifter, I taped the knob with some masking tape so not to scratch the work I had previously done. I removed a lot of material with a bench grinder, and did the detail work with a hand file. You've got to go slowly with this step because if you take too much material off, you're screwed!
At this point I finished all the rough filing, and am sanding down the file marks. I peeled back the masking tape to blend in the sanding.
Placing the two knobs next to each other dozens of times helped me get my knob close to the original shape. I took some liberties and shaped the indents more to my right hand figuring if it's a custom shift knob, it might as well fit MY hand!
The next step was to take it over to my shop and buff the shift knob. After a few minutes of buffing, the knob just came alive! See me waving in the reflection?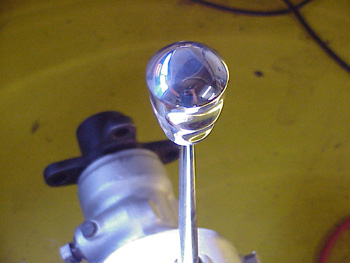 The first thing I did was mount it on my transmission to try it out! It was almost too hot to touch from the buffing, but I had to run up and down the gears. The fit in my hand was great!
A point was brought up by a fellow Ferrari owner that the original shift knob for my car may have been small because of a clearance problem when shifting into first or third gear. François had a GTE for me to check, and this is what it looks like. Dave Booth was right, it is tight, but I hope it'll work. If not, anyone want to buy a billet aluminum shift knob?
As I was cleaning up my shop, I kept looking over to my new shift knob gleaming in the sun. I hope it will fit in my car, because it will be one of those things inside the car that you will gravitate towards to touch! The urge to drive this car is becoming unbearable!!!
Previous Restoration Day
Next Restoration Day
Ferrari Home Page
www.tomyang.net