Monterey Weekend Part II
8/22/01
Monterey Weekend Part II
I got up early on Saturday morning to get to Laguna Seca. It's one of my favorite times at a racetrack. It's the calm before the storm, and at Laguna it's usually foggy, so it really adds to the peacefulness. Many cars were still covered, and I played a game with myself in identifying the cars under the drapes. It's fun to see how little information one needs to identify a particular car. From the shape of a fender, or a hint of a tail light, gear heads can always spot quite a lot!
A special section was for Trans-Am cars, and it was great to see them all lined up. I caught them driving on the track Sunday, and all I can say is, "there's no substitute for cubic inches!"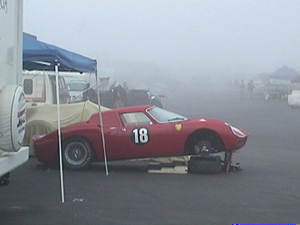 It wouldn't be a Vintage Race without Ferraris participating. This 250LM was perched like this overnight, and was waiting patiently to be worked on.
Speaking of particular shapes, this collection of scoops, and compound curves only speaks "LM"
The opportunity for the dew to hang on these lights would not last long. Soon this car will be rocketing down the front straight at Laguna followed by the familiar Ferrari wail.
It felt great to be able to wander about the pits with all these cars just sitting there. The throngs of people were still enroute, so it was just me, the cars, and some early risers.
The Bentley owners soon arrived, and arranged their cars together. They barely upset the peace because these old girls make so little noise idling in the paddock.
I spent the rest of the morning looking at the abstract shapes in the race cars.
They have such a simplistic beauty, and determined function. Pretty neat stuff!
Here's a picture of a 312 F-1 car coming down the corkscrew. It unfortunately was the slowest car in that run group, but it was obviously the oldest car in the class! (Thanks for the picture Dave)
The sun broke through in a big way, and it got HOT! Here's a picture of some of the guys I met for the weekend. From left to right that's, Sam, Dave, Andrew, and Me. Contrary to most of our wives, girlfriends, and anybody else who knew we were going to meet up with perfect strangers, nobody turned out to be wackos, or ax murderers, just a bunch of car enthusists descending on Mecca!…Either that, or we just put our murderous tendancies away for the weekend!
Previous Restoration Day
Next Restoration Day
Ferrari Home Page
www.tomyang.net