All The Little Things
9/2/01
All The Little Things
I was so excited to have the engine in the car, I couldn't wait until next Friday to begin work again, so I went up to the shop today to keep the momentum going! I got up early, watched the Belgium Grand Prix, and drove up to the car.
I finished bolting the drive shaft in place, and got the safety wire out and wired the u-joints again. This time I paid close attention to how the wire was run so the tension of the wire would keep the bolts from backing out. I'm learning about the small details that really make this car perfect!
One thing François noticed when we were installing the engine and transmission was I had incorrectly routed a brake line. This line that runs across a bulkhead should run above the line clips. Luckily there was enough length in the line to reposition it without having to replace it!
Now the line is tucked away safety above the chassis member away from road debris, and bent correctly to clear the full movement of the drive shaft.
I hooked up all the various banjo fittings and copper gaskets to the auxiliary electric fuel pump, and tightened everything down. This area is now ready for power and fuel. I just need to run one more flexible hose to the gas tank that comes of the other side of the canister filter, and I'll be done with the fuel system under the car.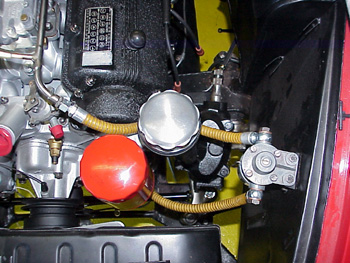 Moving forward, I cut the correct length yellow fuel lines and connected them as well. I'm using copper gaskets at the banjo fittings even though the correct gaskets should be red fiber gaskets. The red fiber gaskets dry out very easily and leak fuel, especially when these cars sit idle. Although I plan on driving this car regularly, I trust the sealing properties of the copper gaskets more than winning a couple of points in a Ferrari show!
The next step was to begin installing the headers. I started with the right rear header so I could fit the starter motor heat shield. Getting everything roughly in place let me see how long the bolts I would need to secure the clips. I found one bolt that was long enough, so I'll have to wait until next time to finish this side when I get a longer bolt.
The headers are going to take a long time to install because of the limited space I'll have to tighten everything down. I also want to take my time and apply anti seize compound on everything that treads together. The heat and moisture in this area will guarantee bolts will rust together if a few moments of preparation aren't spent at this stage. I can't promise the anti seize will work, but something is better than nothing!
I don't know if I mentioned this or not, but I've managed to loose a part to my car. I'm pretty ashamed that after all these years the fuel level sending unit managed stay with my Ferrari only to have me misplace it! I've been looking everywhere for months now. I remember removing it from the gas tank, taking it to François' to have it cleaned, bringing it back to my shop, checking the voltage change from the motion of the arm, placing it on my shelf of parts that need to be installed, and never seeing it again!!! There are only a few places this thing could have gone, but none of these places have that darned sending unit. As things are coming together with the car, I've decided I can no longer leave that part of the gas tank uncovered. I want to install something in that hole where the sending unit would live so nothing falls into the newly refurbished gas tank. François gave me this sending unit he had in his stock. It came out of a customer's car because it was broken, and he managed to locate a good one to replace it. I can get this one fixed and use it until my original one turns up. It looks like one of the thin wires has broken off. Next week, I'll start looking for someone who can repair this sender.
Previous Restoration Day
Next Restoration Day
Ferrari Home Page
www.tomyang.net