Short Work Day
9/7/01
Short Work Day
Too many obligations meant I had a very short work day on the car today. I installed the brake master cylinder, and continued fitting the soft fuel lines to the car.
This rear line comes from the electric fuel pump that is mounted at the rear of the car. I've seen many different ways to route the soft hose from the hard steel line that comes up the firewall. On some cars, I've seen them come up over the distributor, and back down onto the back carburetor, and others coming straight through line the way I have here. My hard line lined up between the coil and the distributor, making a neat and subtle installation.
Another soft hose I made today was the one that goes from the rear of the car to the mechanical fuel pump. This hose is the primary feeder hose that supplies fuel while the car is running. It's diameter is slightly thicker.
I have two pieces of information to share with everyone. The first item is to commiserate with anyone who has sold a car they've worked on.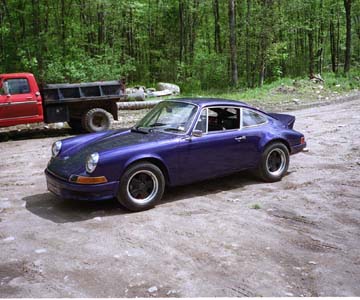 I've made the decision to sell my '72 911! I drove the car about three times last year, and will probably drive it even less once the Ferrari is finished. It's going to a friend that has been offering it to buy it for two years, so I know it's going to a good home. I'll miss the car, but I just can't afford to keep EVERYTHING! I'll still have my '65 Mustang Fastback, and Sunbeam Alpine, so I'll be fine…I think. Besides, it's not like the 330 America, where there were only 50 made. Thousands of 911s were made, and if I find myself having that familiar pain that reminds me that I don't own a Porsche, I'll find another one! I could also use the money right now to help pay for the luxuries of a Ferrari restoration like a stainless steel exhaust!
Speaking of spending money, I'm going on a trip to China! It's going to be a quick one week trip to visit some relatives I've never met before. It's also going to be my first time in China, so it's pretty exciting. How does all this affect you? You're going to have to go for two weeks without a Ferrari Restoration update! Sorry! I'm going to try and get one more day of work in next week before I leave, but after that, you'll have to wait until at least the 28th of September, unless I come upon great Ferrari happenings in Beijing!
Previous Restoration Day
Next Restoration Day
Ferrari Home Page
www.tomyang.net