An Exhaust to Avoid
1/12/02
An Exhaust to Avoid
I was speaking to Dave Freer about his GTE a few months back, and the topic went to exhaust systems. Dave owned #3905 that was found at Jerry Curtis' shop, and was sharing the story about the problems he was having with a stainless steel exhaust system he tried to install. I was very interested in what happend to Dave because I was in the middle of researching which exhaust to put on my car. Since Dave didn't have a scanner, I received via snail mail pictures of the ill-fitting exhaust system, and the problems he encountered. (my comments are in red)
The demon exhaust system was made by Stainless Steel Muffler Corporation, their rep on this sides with a branch here in Toronto and one in Buffalo N.Y. A friend had dealt with them in the past with no problem so I went ahead, There wasn't a lot of choice at that time as Ansa had just come under new ownership and had stopped production for some reason. Ferrari would have found me something somewhere but wanted
almost twice the bucks. I guess you get what you pay for.
I don't have as many good photos as I thought, but these four pretty well tell the tale. Three show comparison to the old Ansa pieces.

1 – Note un-parallel planes on the flanges. (Instead of blending in the two pipes, they used an off-the-shelf "y" that spaced the pipes too far apart. )
2 – Spacing of openings and bolt-hole locations. ( This is why I had Stebro only tack weld the flanges in place, so it would be easy to cut a wrong weld and re-attach. These pipes would have never fit anyway because they're spaced too far apart)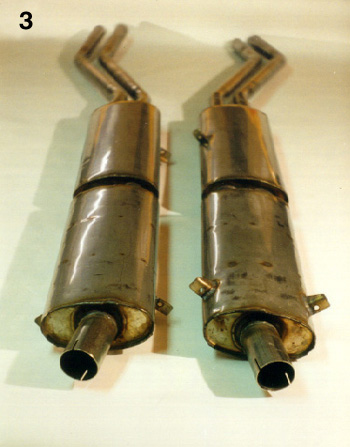 3 – Note position of hanger lugs. Assuming the one on the right is correct, the one on the left obviously is not. If you flip one unit over, it becomes apparent that what we have are two same-side pipes, rather than a right and a left.
4 – Note location of the muffler relative to the end of the tail pipe. It ended up directly against a frame member rather than nesting between two.
I complained of course, and they begrudgingly said they would "have a look at it" fl returned everything to them (at my expense!) including the old Ansa stuff. They tried me on the line that "no two terraris are alike" which may be true for GT0~s and TdF's1 but with a production run of 935 units, the GTE certainly doesn~t fit that alibi, especially when they listed this exhaust system as a standard off-the-shelf item in their own catalogue.
I sent only the "inter" pipes, (i.e. photos 1 & 2), figuring that I could have the big pieces modified here for less than the cost of shipping them to England. I sent the Ansa inter pipes too, specifically asking that they be returned. They were not. When the new units arrived they looked better, but still not quite right. My installer was however able to get them to fit, but only with some fancy torch work and a lot of brute force. Unfortunately my idea of moving the Iugs and the cans turned out to be not too practical after all. He was able to fabricate new for less time and money. Too bad I didn't discover this guy earlier. So there you have it, unbelievably poor workmanship and a miserable attitude which is the most annoying part of all, I hate dealing with people who miss the point of what the buyer/seller relationship is all about. I have since talked to someone else who had a similar and more recent experience with Name Withheld) so I guess they haven't learned anything.
Caveat emptor!
Thanks for your interest Tom, and continued good luck with the big
project. We'll all be watching.
Best regards
Dave Freer
I was horrified with what Dave went through with this exhaust system, and wanted to share this with anyone considering installing a stainless steel exhaust system. I believe the company that originally made this system is now out of business.
I admit the Stebro system is not perfect, and will need some work to fit right, but this makes my system look pretty good!
I hope to get a opportunity to try out Timevalve in the near future with another car, so stay tuned while we get to the bottom of this Ferrari Exhaust dilema!

Previous Restoration Day
Next Restoration Day
Ferrari Home Page