Exhausting Progress
1/22/02
Exhausting Progress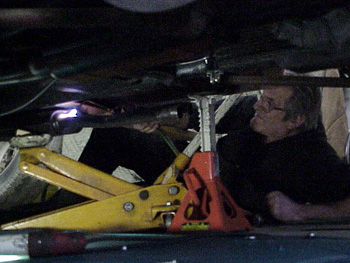 Well, I needed to bring in the expert for help on my exhaust. I spent the morning hanging the right side of the exhaust trying to figure out how to get it to line up with the front y-pipe, clear the frame tubes, and look correct exiting the back of the car. This was no easy task, so I got it the best I could, and asked François to come hand have a look. The front of the car looked O.K., so he tack welded the y-pipe into position, but after some careful thought and pushing on the pipes, he concluded that the pipes coming out of the middle set needed to be heated and bent to solve the rear fitment problems..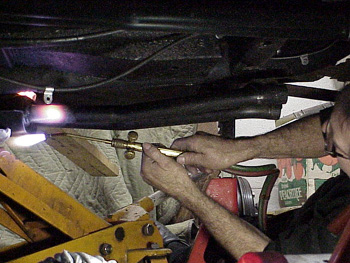 François eyeballed the pipes, and began heating them red hot. Before it cooled, he bent the pipe to where he thought would be right, and matched the position with the other pipe. Once the rear section was bolted into place, everything fit right! I was pretty impressed with how François knew how much needed to bend on the first try! (Don't worry, the black wire hanging down is actually the parking brake cable. The aluminum clip is not attached because the mount needs to be re-tapped)
I now took the front y-pipes off AGAIN to have them TIG welded later this week.
The right y-pipe did not line up as well as the left side as you can see from the tack weld holding it in place. I believe the TIG welder will be able to fill this gap.
I'll get the welder to fill this gap, and I'll work it smooth for good flow.
The collectors will get the same treatment. Hopefully, the next time you see these pipes, they'll have nice solid welds ready for FINAL installation!
Previous Restoration Day
Next Restoration Day
Ferrari Home Page