Bridgehampton
3/3/02
Bridgehampton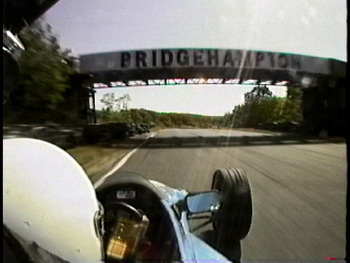 (Click on the picture, but be aware, it's 5 megs! )
I'm all ready to shoot a movie of the start up of the Ferrari, but I was looking over some old tapes, and found this clip. I digitized the video to hold you over until I have something "Ferrari" to share!
It's me driving a Skip Barber race car on the now destroyed Bridgehampton Race Circut. It's not the fastest driving, but hey, I'm no Schumacher! I wanted to post this movie to re-live the fond memories of this great racetrack. (Recent picture of Bridgehampton)
I convinced some of the guys at work to pool our money together and do a one-day corporate event with the Skip Barber Racing School. Originally, we were going to hold the event at Lime Rock, but a scheduling conflict moved the event to Bridgehampton Long Island, in NY. It was June, 1998, and "The Bridge" was basically closed and in the middle of a legal battle to turn this prime piece of real estate into a golf course! The racing school managed to rent the track for the day, and 15 of us got to drive this course one last time!
There was a lot to learn with these cars, but everyone had a lot of fun!
Previous Restoration Day
Next Restoration Day
Ferrari Home Page