A New Agenda
6/14/02
A New Agenda!
I've been looking so forward to the start of the engine, I haven't spent much time thinking about what to do for the next work day! Now that the engine has started, there is a whole world of things to do, mainly in getting the car driving down the road! The upholstery and carpets still need to be done, and I've notified my upholsterer of my progress with the car so he should be able to fit me in this summer, but I want to put some miles on the engine to break her in.

I picked up the transmission cover from the upholsterer so it would protect my elbow from the spinning drive shaft! It still has the old leather cover, but will do fine for now.

The old leather was dyed a horrible shade of tan at some point in its past. The original color can be found on hidden pieces, and matches perfectly to the center console that has been recovered with new Connolly leather.

The next project was to work on the parking brake. I've looked all over for a release rod that was missing on my car, but no one seemed to have one, so I decided to make one from scratch. The rod (arrow) follows the contour of the parking brake handle, and releases a paw inside the parking brake. The other end of the rod threads into a spring loaded release button. Getting the bends and the correct length took two tries, but luckily, I bought extra rod!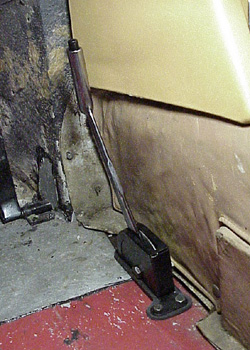 Here it is installed on the car. It works perfectly, so I can pass that portion of the State Motor Vehicle inspection!
Besides getting my car registered, I still have to install some seats, the bumpers, the windshield and the hood! Let's not forget the windshield wipers, and side view mirror! I'm sure there's more I've forgotten, but it'll all have to wait a couple of weeks. I'm headed for the Caribbean for a week's vacation. I may have my toes in the sand, but you can bet I'll be dreaming about the Ferrari! Se ya!
Previous Restoration Day
Next Restoration Day
Ferrari Home Page