More Hood Prep
8/23/02
More Hood Prep

After two weeks away from working on the car, I picked right off where I left off. I stopped by East Coast Trim to drop off my hood pad. It's looking great after I thoroughly cleaned it and treated it with a vinyl protectant made by Lexol. I let the stuff soak into the hood pad for the two weeks while I was in China, and then wiped off the excess. It's still a little greasy, and shiny, but after the padding is sewn in place, I plan on wiping more of the stuff off to give it a dull shine.
You can see the roll of silver insulating material I got from JC Whitney next to the hood pad. It is basically "jute" insulation, mated to an aluminum foil backing. In total, it's about 3/8ths of an inch thick. Frank plans to sew the silver side to the back of the hood pad, so the jute side will glue well to the aluminum hood. He's concerned that after he sews the padding on, the hood pad may shrink too much to fit on my hood, but I figure it's worth a try. He'll trace a pattern first, so if this doesn't work out, we can make a new one from scratch.

The grain of the hood pad is hard to get exact when replacing it. While I was at Frank's shop, we looked around to see if we could find something close. It wasn't ordinary vinyl because it would never stand up to the rigors of the engine compartment, but Frank felt vinyl roof material may be the right stuff. It took a minute for me to realize what he was talking about, but soon images of '80s vintage Lincolns, with landau bars, and puffy vinyl roofs appeared in my head like a bad dream! He found some samples and we found one that made a close match. At least now we have a "plan B" if the hood pad shrinks!

I got to the shop and started fitting the hood spear onto the hood. I carefully lined up the spear, and marked the underside with a marker. Luckily, François had another GTE in the shop for service, so I used it for reference to get the position correct. François and I bolted the hood to the car to check if the spear cleared the body when it was opened, and everything checked out. Seeing the hood on the car for those short minutes made me feel that much closer to finishing the car!
The hood then came back off to fit the rest of the pieces, and await the hood pad.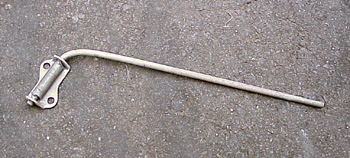 Just when I thought I had all the pieces to this car, something else turns up missing! I had to go to my storage space and look through the boxes for two things: the prop rod and the safety catch for the hood. After some time searching, I found the prop rod, but no safety catch. Trying to remember if I had ever seen a safety catch in all the pieces that came with my car was hard enough, let alone remembering where I had put it! I'll just have to keep looking. Anyone got a spare?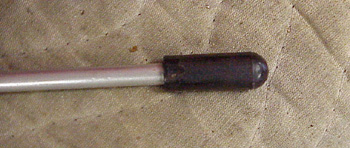 My prop rod is missing the plastic end, so next week I'll have to tun one on the lathe. Here's a picture of one from another car. François has some black plastic rod that'll do nicely.
The plan is to continue working on the hood until it is completed and mounted in place, which can be as early as next week depending on Frank finishing the quilting on the hood pad. No progress has been done on the windshield. Getting a "glass guy" to stop by and see my windshield has been tough. Both he, and François have been very busy, so my car still sits waiting to resolve this issue. The good news is Frank is completing an interior on another Ferrari, and will soon have time to slot my car in to be done! I'm not going to hold my breath, because this kind of talk can easily mean another month before he's ready for my car, but nonetheless, I'M NEXT!
P.S. I had a great trip to China. We covered a lot of ground in 9 days. If you'd like to see what I did, you can click here. It's still a work in progress because I've got a lot of material distill.

Previous Restoration Day
Next Restoration Day
Ferrari Home Page