A Horse by a Different Name
1/29/03
A Horse by a Different Name

The winter is really getting to me!!! After weeks of snow, sub-freezing temps, and no sign of letting up, the weather is forcing my Ferrari to spend this winter waiting for Spring. The 330 America needs seat belt anchors TIG welded, and the overdrive still needs some trouble shooting, but both of these projects require some driving, and with the roads all salty, I wouldn't even consider such a ride!
I decided to spend a couple of days working on my Mustang while the snow falls. Don't worry! There will still be plenty of journal entries featuring Ferraris, but I figure reading about the Mustang is better than reading about nothing!
I've had my '65 Mustang Fastback for about 12 years. She has a 289 V-8, T-10 four speed, power steering, and front disc brakes. The front and rear suspensions are new, and lowered slightly to match the Shelby GT 350 Cobra specs. The plan has always been to make this car a nice clean "driver," and today's project is to address a noisy rear end.
A whine has always emanated from the rear of the car, and recently, a slight rumble could be felt in the car on deceleration. I decided it was time to look at what what going on, and at the same time make a few improvements. Like many Mustangs of that era my car was fitted with a 2.80:1 ring and pinion. I get great gas mileage from this set up, but 1st gear has always been a little tall for easy clutch take up. I decided that if I was going to replace my ring and pinion, switching to a 3.25:1 could help in the acceleration.

Everything came apart with ease. I was concerned I would need a slide hammer (which we didn't have) to get the axle shafts out, but after a couple of tugs, it came right out. The rumbling was discovered from a loose U-joint bolt when I went to remove the drive shaft from the differential. Luckily, I didn't let this rumble go without inspection because having a drive shaft fall out of a car is not a good thing!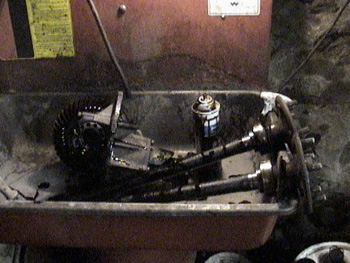 I threw everything into the parts washer, and cleaned off all the old gear oil, and started scraping off the old gaskets. I've got a new ring a pinion, bearings, and associated gaskets for the rebuild arriving next week, so it shouldn't take long to get everything back together.

It was quite a contrast compared to last year this time when I was working on my Ferrari's differential! It took me three whole days of work on my 330 so I could just get a look inside my rear differential. With the Mustang, I had the center section out in two hours! This leads me to think about why I enjoy working on the Ferrari so much? With the Mustang, all the parts are easy to remove with simple hand tools, and replacements can be bought locally or from dozens of parts vendors all over the US. The catalogs are detailed with all the parts clearly numbered, and often pictures of exploded views so you can see how it all goes back together. The Ford Factory Shop Manual is available in reprint, and very helpful in showing the procedure for every repair. With the Ferrari, it's not nearly as easy, or as inexpensive. So why do I relish the work on the Ferrari? At the risk of sounding like a masochist, I like the challenge. Every turn of this Ferrari restoration has led me down another path of learning, not only about mechanics, but also about myself. I've truly pushed the limits of my patience, and determination on the Ferrari which might not have happened if my restoration was as easy as flipping through a catalog.