Mustang Work Continues
2/7/02
Mustang Work Continues
I decided to take last Friday off to go skiing, figuring if it won't stop snowing in the Northeast, I might as well enjoy it! I could tell you about how a beginner learned how to ski, but that's not why you're here!
Unfortunately, even after a week off from working on the cars, I was met with more snow this morning! Dodging bad drivers with my Camry's inability to handle deep snow gives me a good reason to stay home and sleep late, but when cabin fever sets in, look out! I logged onto http://www.weather.com and found that the snow, although pretty heavy in the morning, would stop by the afternoon, so I decided to screw it and try!

I basically followed the plow trucks all the way up to Connecticut. Here we are, waiting for the State Police to clear another car off the "Saw Mill River Parkway." It's pretty amazing that with all the technology available in a modern car from traction control to anti-lock brakes, people begin to think they can defy the laws of physics! The "Saw Mill" is especially tricky, and is a great driving road. As the name implies, it follows a river that once was, so it's very twisty. Today was not a day to test the limits of traction, and yet a Celica decided to explore the woods off the side of the road. Luckily, the driver wasn't hurt. Let's just hope he learned a lesson, but usually they don't because the first thing they blame is the car or the weather. You never hear them get out of their cars and say, "It was my fault. I was going way too fast for that turn…"
My new Ring and Pinion from Currie Enterprises arrived with all the bearings and seals I would need to do the job. Total Cost: $311.00. I forgot to buy axle seals, and with the weather as bad as it was, that'll have to wait until next time.

After cleaning it the last time, I set about stripping the differential apart. An impact gun was imperative to remove the yoke, and it certainly made removing the ring gear bolts easy.

I sand blasted and painted the rear drums while they were out. According to Mustang Concours detailing, they should be left natural cast iron, that's why they're always rusty! Eastwood makes a cast iron paint that looks right and keeps the rust away, but I wanted them black because they'll be less noticeable with the Torque Thrust wheels I use on the car.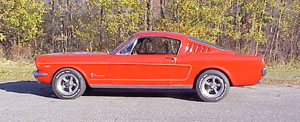 By the end of the day, François and I had the new 3.25:1 gears installed and adjusted. It takes some special tools like two types of bearing pullers, a one ton press, and an impact gun, but it was a nice feeling to have been a part of the installation. I popped the center section…actually struggled and heaved, the center section back into place, and bolted the drive shaft back on. Next time, all I've got to do is install the axle seals, and put the axles and drums back on.
Mike Seidel, from the Weather Channel often checks this site, and I may have to ask him for a favor. He needs to stop this snow and give me a few clear dry days so I can test drive the Mustang! How about it Mike!
Previous Restoration Day
Next Restoration Day
Home page