Sanding the Grille Pieces, and Ferrari Mystery Part VI
4/1/03
Sanding the Grille Pieces and Ferrari Mystery Part VI

The long arduous process of sanding the aluminum pieces for my grille continues. The curved sections were rolled to form the grille's shape, but the rollers left a few marks in the aluminum that first need to be removed. After some coarse sandpaper, and some hard work, I got the pieces smooth enough to move to a finer grit sand paper. The piece on the left is considerably smoother than the one shown on the right.

After I got the rough sanding done up at Francois' shop with a palm sander, I brought the pieces home to wet sand with 1500 grit sandpaper. I spent two weekend mornings sanding at the kitchen table. My girlfriend took this picture all the while mocking my obsession with this car!

Trying to find a safe place to store the pieces ready for polishing, I first laid them in this foam lined box, but soon realized moving the box would rattle the pieces next to one another. Any bad moves, and the pieces would scratch, and I would have to re-sand the pieces. This would only get worse when I had to put them in my car to transport them up to the shop for polishing. I needed to make something for these pieces.

Inspired by East Coast Auto Trim's work with a sewing machine, I decided to make a "grille cozy." Who says guys who work on Ferraris can't also sew a mean piece of coth? I bought the fabric in the City for a couple of bucks, and used the scenic department's sewing machine to sew up my design during some down-time.

When rolled up, each grille pieces are protected from one another, and I can easily transport these pieces from place to place without scratching at thing. It will really come in handy after I polish everything to a high shine.
O.K. say it, I'm nuts.
Ferrari Mystery Part V was this:

Thanks for the responses. Yes, it's a knurled knob that holds the air cleaner assembly down. Tracking down exactly which year Ferrari began using them takes a little detective work. The 330 engines had them, from the GTC to the 2+2s, as well as my 330 America. I'm assuming the 330 Americas were the first cars with these knobs even though they have the open air cleaners found on the 250 engines.
Here's Ferrari Mystery Part VI.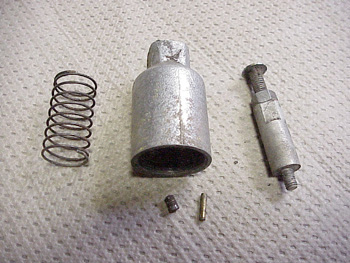 A hint would be that these came somewhere off Kerry Chesbro's PF Coupe. E-mail the answer with "Ferrari part VI" in the subject line.
Previous Restoration Day
Next Restoration Day
Home page