Foam and Carpets
4/18/03
Foam and Carpets

I picked up a twin sized mattress at a supplier in Queens today. The warehouse was filled with all sorts of foam, from huge VW sized pieces, to thin sheets in huge rolls. I could tell they were not in the business of selling in small quantities, but they let me buy just one mattress with the use of "East Coast Trim's" Tax ID number.
I spent the rest of the day trying to form some seat pieces up at Frank's shop. It wasn't easy work because this material does not cut easily. I used an electric carving knife to cut off a block, but shaping it with the knife was not as easy as it is with urethane foam. The latex stuff is a lot softer, so it gives when you try to cut it. I resorted to pulling off chunks of it by hand, and sanding the surface with coarse sandpaper. The plan is to get it as smooth as I can, and then glue a thin sheet of urethane foam to make the surface behind the leather smooth.
It's a learning process, and when I get a good technique down, I'll let you know. If anyone has suggestions, please let me know!

Last week, I ran out to Newark NJ to pick up my carpet for the Ferrari. Bill Hirsch Auto has been supplying Connolly Leather, and Wilton Wool carpets for years, and has a large selection in stock.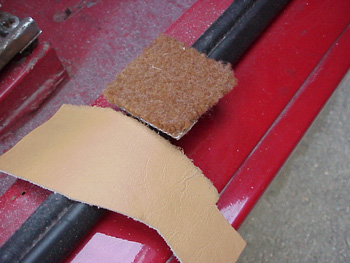 When I called about the availability of my carpet color, they told me that they had about 30 yards of the stuff, and that it wouldn't last long. I needed 8 yards, so I took the first chance I had to head out there. Normally, it would take 7 yards, but I want to make some extra floor mats for the driver's and passenger's foot wells. These mats will lay over the carpets, but will take the abuse of everyday driving, and can be removed if I ever decide to show the car. They'll fit perfectly, and even look like the regular carpeting with binding and all, but will be nicer than having floor mats.
I met Bill Hirsch, and he was very helpful, and enthusiastic about his products. We discussed how Connolly Leather is no longer available, and he has been forced to find suitable replacements. He showed me some samples he's been getting from Italy, and they seem very nice. Finding a quality leather that is as good or better than Connolly is not the problem, it's matching leather to the original Ferrari colors that's been tricky. Luckily, I bought all my leather when Connolly was still in business!
Carpeting is another issue. "Wilton Wool Carpets" describes a particular weaving process that makes the carpet look the way it does. I think it dates back to an area in England, but the machines that make Wilton Wool Carpets are mostly found in Europe. Hirsch believes there is one company in America that uses a Wilton machine, but is far too expensive to buy from than going to suppliers in Europe. Modern day carpeting manufacturing uses a loom that makes carpeting about 10 times faster, thus far cheaper to make, but Wilton is still made for those who have to have the plush look of Wilton.
The problem lies in importing carpet from Europe. Colors change from batch to batch, and when Hirsch's stock runs out, it can take months before a new shipment comes in, and it may not match what you originally bought! When I heard he only had a certain amount left of the carpet I needed, I snatched up what I could get!
While I was there, I also looked at carpet binding, the stuff that finishes the edges of the carpets. Without it, the carpets would unravel, and look pretty messy. Originally, I thought I was going to use my beige leather as a binding, but when looking at the contrasting color, I decided I didn't like the look. All the leather bindings Hirsch had were either too dark, or too light, so I think I'm going with a vinyl binding. I would much rather use a vinyl color that matches the carpet, than use a leather that does not.

Thanks to everyone who gave suggestions for a shifter seal. Although I'm sure I could have used a number of them, Zac suggested I try a Jeep supplier. Surfing the Internet found http://www.tellico4x4.com which had a picture of this shift seal for a Warner T90 3-speed found in an early CJ.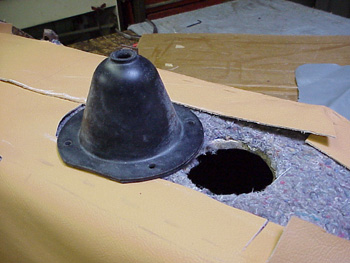 It looked pretty close, and the price was about $8.00, so I called them and asked if they could take some measurements. Trying to picture exactly what he was trying to measure was a little confusing, so I asked if he has Internet access. I told him to look up my Ferrari web site, and where to find a picture of my shift boot. After looking at the one on my web site, and the two choices in his hand, he packed up 907107 and popped it in the mail to me. With shipping, it'll be $13 bucks. If it turns out to be a good fit, it'll be another reason why the Internet has made my life easier…and cooler!
Ferrari Mystery Part VII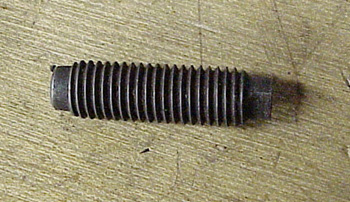 The answer is a valve adjustment screw for Vintage V-12s! I was surprised how many people got caught on this one!
Previous Restoration Day
Next Restoration Day
Home page