Upholstery X
6/6/03
Upholstery X

Joe was busy at work on my door pockets when I arrived at East Coast Trim's shop. They're taking him a ton of time to take apart and refurbish. The door pockets are hinged, lined and spring loaded, so there are a lot of details that need to be copied. Using the old one as a guide (above), Joe meticulously copied the details onto the new pocket. (below)

The hinges were unpainted steel, so they needed to be cleaned up and reattached. Thankfully Joe was given this task, and not me with my skills of an amateur!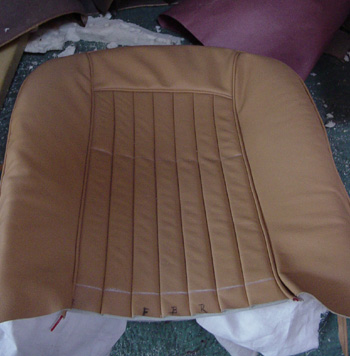 I worked on fitting the foam cushions to the new leather seat covers. I got both front seat backs roughly to the shape I want, but now I'll need the skills of Frank and Joe to help me with the final fitting. There's a large amount of tugging, stretching, and stuffing involved to make for a wrinkle free seat that requires the hand of a professional, so Frank will need to find some time to help me out. With Frank trying to get other upholstery jobs in and out of his shop, along with simply answering the phones, it's hard to get him to stop and work on my seats! Our plan is to pick a Saturday to focus on these seats. On Saturdays the phone stops ringing and the customers stop coming, so Frank can give his undivided attention to my seats.

Small jobs on my interior are being worked on as well which brings us to the door pocket frames. As Joe is working on the doors, the frames needed some straightening. The one on the left is an old one that is still leather covered, but the one on the right has been stripped, and painted. The originals were unpainted, so they were a little rusty.

When Frank and Joe looked at the first pocket frame, they found it to be bent and twisted. Perhaps this was the signs of a previous repair, but trying to straighten it out was a problem,

Welding the steel only caused the frame to warp even more, and body filler would not have fixed the twisted frame.

The latest solution is to weld in a whole new section to replace the warped and bent section. The shop next door has a sheet metal brake, but somehow the guys didn't measure the piece accurately enough. The "U" channel should have been 5/8ths of an inch thick, but they ended up with 3/4 of an inch. I could have used that piece, but it would have not matched the other door pocket. Frank's going to try and get them to do another one in the correct dimensions next week. Let's hope they "measure twice and cut once" on the next go around!
Previous Restoration Day
Next Restoration Day
Home page