Upholstery XI
7/2/03
UpholsteryXII: Seat Cushions and More Welding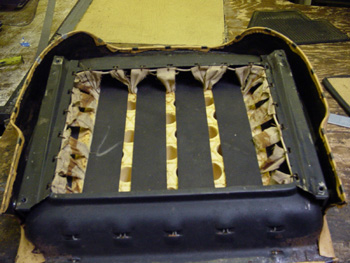 I continued replacing the straps that support the seat cushions for the other front seat today.

I added the two extra straps to the seat bottom like I did to the other seat frame so I could have a little more support for the cushion.

After gluing the foam to the frame, I took out the new seat cover to see how it fit over the foam. The center section of the cushion will need to be drawn downwards to form the seat.

When you look at this picture of the old cushion before I took it apart, you get an idea of how much the center section needs to be pulled down.

A separate layer of fabric was sewn to the leather just like the original seat covers. This fabric will help anchor the leather to the frame of the seat, and will keep the distance between the seat and the sides of the seat consistent. Without this anchoring piece, the leather could stretch or shrink the wrong way causing ugly wrinkles.

I laced up the back of the seat cover to draw it down onto the frame. This picture shows it a little too tight. (compare it to the old cushion above). I want to use a different cording to do the pulling, so I stopped the work here today. I'll get some new cord for this portion of the rebuild, and I'll show how we get this tuck to happen next time!

A couple of weeks ago I made my first welds on Frank's MIG welder, and was all excited about learning a new skill. I started thinking about buying a welding mask of my own that had an "auto darkening" feature where the mask senses the arc of the welder, and automatically darkens to protect your eyes. Thanks to all the people who offered great advice on what kind of helmets to buy, but a special thanks needs to go to Mike who mailed me a helmet he had laying around his shop after he upgraded to larger lens! It's a nice Lincoln Electric model that is battery powered with an auto shut-off. When it shuts off, it goes dark, but when it's on, it stays clear until it senses a spark. It works like a charm! I even had Frank try it out since he never used an auto-darkening shade before, and he immediately fell in love with it!

Frank pretty much left me alone to practice, so I didn't have much guidance. I wanted to learn how to MIG sheet metal because that is probably the most common work I'll need to do, so I cut up some metal and tried to join them. Here's the results to some butt welds.

This is the other side. I hope the welders out there will comment on my work to help me improve. Is there enough penetration? I started the welds on opposite sides, spaced the welds 1 inch apart to keep the warping down. I came back to fill in the spaces and got what you see here.
The auto darkening mask really helps here. I don't know how I could have started doing this without one! I wish I had the time to take a welding course, but I've got a Ferrari to complete! What I need is an hour or so with a master welder to give me a crash course. If someone can set me on the right track so I don't pick up bad habits, I can then spend all my spare time practicing.

Always needing a project to practice on (welding sheets of metal together is boooring), I decided to try welding together a cube as a present to my wife. (Honey, look what I made for you today at the shop!) I ground down the welds, and sanded everything smooth, and it doesn't look half bad. It's not half good either, but I'm pretty proud!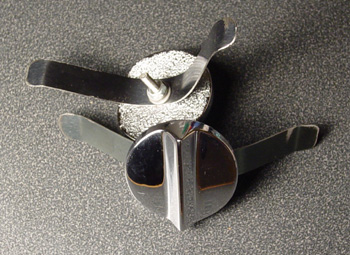 Speaking of stuff in the mail, Parker Hall of Kilimanjaro Designs sent four jack plugs for my 330 America. He's redesigned the springs on the back of these plugs with help from the message board discussions on this site. Hopefully, with the new design, these precious plugs won't be dropped by the side of the road due to weak springs! It's nice to know that vendors like Parker are out there listening to Ferrari owners, and making changes to help. Unfortunately, Parker sent me his last set, but he's planning on making more. I figure if you want some, call him to reserve a set, and to let him know he has a demand to make more! …and tell him I sent ya! (601) 638-7856 Thanks Parker!
Previous Restoration Day
Next Restoration Day
Home page