Pulling an Engine
11/6/03
Pulling an Engine

Since I was up at François' shop last Saturday taking pictures of 4969, I lent a hand at getting the engine out for a rebuild. After the transmission was removed through the passenger compartment we got to work on the engine compartment removing the radiator and all the wiring.

We even put the new owner to work by making Michael take the bronze nuts off the exhaust manifolds.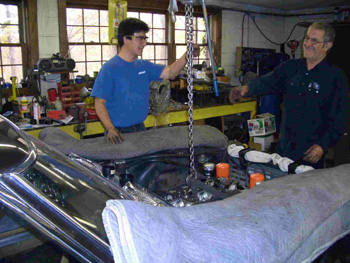 After all the wires were disconnected, we hoisted the engine out. This picture shows we may have been having a little too much fun here working on old Ferraris!

It took a little wrestling to get the car to release the engine from it's home. Just like my car, this 330 America has a 4 liter engine in a place that was designed for a 3 liter engine, so it was a tight squeeze in and out of the car!

The history on this engine shows that it had minor head work done, but nothing major that required the engine to come out of the car, but soon, this engine will be good as new!

By the end of the day, the car was ready to pushed into a nice winter sleep while the engine is rebuilt. The empty engine compartment will require a thorough cleaning from the years of accumulation of grease and dirt, but to Michael, this was a pretty sight!

Previous Restoration Day
Next Restoration Day
Home page