Door Panel Assembly
11/21/03
Door Panel Assembly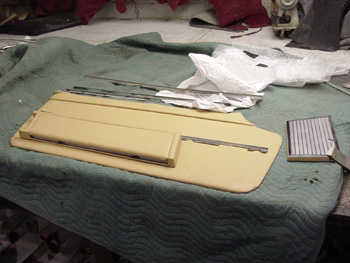 I started working on putting all the pieces to the door panels together for final assembly. I still need to have the armrests made, but getting all the other parts together will still take some time. This involved getting all the parts to the panels that were scattered in different parts of Frank's shop. I wrapped the aluminum door panels for safe keeping, and stored them in the trunk of the car, while the leather panels were stored with the front seats in a pile of parts that were covered with new leather and waiting for installation. The hardware came from a cabinet of screws and hardware Frank has for this kind of installation, but it still took some time to sort out what size screws I would need, along with the associated washers.

I also had to gather all the pieces from the coffee cans of parts and polish them. It was slow methodical work, but the results were pretty satisfying.

The door pocket was taken on and off the door panel countless times to make sure the various pieces lined up. One critical piece was the chrome trim strip that ran along the top edge of the pocket. I must have checked its fit a dozen times before committing to drilling holes in the panel. A mistake in this door panel so close to finishing would be disastrous!

By the end of the day, I had both door panels set in place. They still need to be screwed down, but I want to take some time to make sure they line up perfectly with the door opening.
Before I can actually say I'm finished with the door panels, I still need to have the door pocket pulls and the arm rests made, but I still feel I got a lot accomplished today!
Previous Restoration Day
Next Restoration Day
Home page