Back on the Grill
12/30/03
Back on the Grill

With Eastcoast Trim taking a couple of days off, I decided to go to François' shop to work a little on my grill. I've been so busy working on my interior, I haven't had much time to work on any other part of the car, so the change was good.

I had to grind down the welds that join the four sections that made up the shell.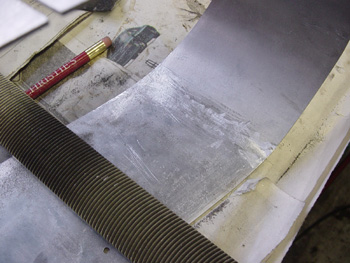 The first tool I used was a hand file to knock most of the weld down. Then it was onto the high speed rotary tool with a small coarse sanding drum.

After using about a medium grit sanding drum, I switched to hand sanding the surface smooth. You can just make out one of the seams at the base of this vertical piece.

I polished one of these joints just to see how it would turn out, and it looks pretty good. By the time everything is assembled and polished, you shouldn't be able to see any signs of the welds.

Before I begin the laborious task of polishing this grill, I will first need to mark the pieces. The Ferrari factory stamped all the pieces with a number punch and I would like to do the same. I'll just have to figure out where I can buy one!

Remember Michael Greenspan's 330 America? Well, 4969's engine rebuild is almost done, and I noticed something interesting when I was admiring François' work.

The previous owner sent the flywheel out to be balanced, and François saw no reason to re-balance what had already been done. You can clearly see a "H. Garbut" written on the flywheel so it would be returned to it's owner after the balancing. The writing was not easily removed with degreaser and solvents, so François decided to leave it alone. As much as this car is now Greenspan's car, it will still have signs of its past caretaker!
I want to take a moment and wish everyone a Happy New Year! New friendships were made, old ones were preserved, and this site has continued to grow in the past year. I know I say it all the time, but part of the success of this site it attributed to your involvement, and I want to thank you all for being here. The knowledge that I have so many people interested in what I am doing keeps me motivated to continue the work on this website, and I appreciate it.
The challenges of the New Year will require an even larger effort to finish this Ferrari because my wife and I are expecting our first child! I know many of you will smile knowing the changes that takes place in one's life when a child is brought into a household, but I look forward to the adventure of change. I hope I will still find the time to work on my Ferrari, but we'll just have to see what the future brings. I hope the purchase of the house and the consolidation of my cars and workshop will give me the flexibility of working on the cars when I have a spare moment from raising a family. Right now, however, we sit and wait. My daughter is due on January 19th, so her arrival can be any day in the next couple of weeks. Stay tuned!
Previous Restoration Day
Next Restoration Day
Home page