Found a Truck!
1/20/04
Found a Truck!
First off, I'd like to thank all of you for your well wishes and stories about fatherhood. Yes, I'm sleeping less, but not a little as my wife! Yes, it's the coolest thing I've done so far, even cooler than firing up my Ferrari engine for the first time! And no, it hasn't stopped me from thinking about cars because through all of the events of the last several days, I still managed to find time to buy a pickup truck!

A fellow Ferrari owner in NJ called me while I was in the labor and delivery room last week to tell me about a truck his mechanic was selling. With all due respect to my wife who was laboring with our child, I asked Art if I could call him back when it was a better time. After the long night, and the eventual C-section, I finally got a chance to call back.
Art's mechanic was selling this truck for a friend of his because he had bought a new truck. It's a 1989 F-150 XLT Lariat with about 120K miles. The engine was replaced 40K miles ago with a crate engine because a previous mechanic had fixed a manifold leak with too much silicone sealer that eventually blocked up the oil galleries. The first engine seized at 80,000 miles, and a replacement was fitted. I found some small rust bubbles on the lower body sections below the extended cab section, but most Fords seem to rust here. The frame looked great, and showed no real issues. The truck also had relatively new paint, and besides the small rust bubbles, looked to be holding up well. Then there was the paint scheme to consider…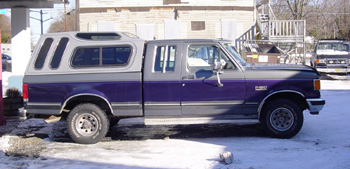 The owner's son supposedly owns a paint shop and chose to paint the truck in a two tone scheme of gray and purple! When this was described over the phone, I wasn't sure if I could live with it, but with the condition, and price, I had to look at this truck in person. When I finally saw the color, it wasn't that bad. I guess it's the most tasteful combination of gray and purple one could ask for!
When I inspected the engine compartment, everything checked out except for a leaking master cylinder and power steering pump seal. Part of the negotiations involved getting these two issues resolved, and I soon found myself buying this truck. I'm going to give them one week to get the truck ready, and in the interim, I'll get the truck registered and insured. I can't wait to get it!
The added bonus was that the truck already had an NRA sticker in the window!

Previous Restoration Day
Next Restoration Day
Home page