Fixing My Mistake
1/30/04
Fixing My Mistake

I got a late start today on the Ferrari because I was busy dropping off my truck off at her new home. We got about 8 inches of snow the other day, so I got to try out the 4 WD a little today. It's like having a new toy!

I made quick work in fixing the door pulls for the map pockets, even though there was a lot disassembly to get to the little pulls. I guess after having taken these panels apart numerous time before, I'm getting pretty good at it!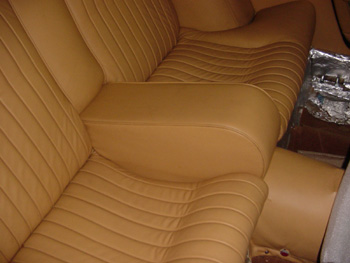 I also finished the rear armrest. After sitting for a week with the leather roughly stretched in place, I permanently anchored the rest of the leather in place and smoothed out all the wrinkles. It looks like most of the rear seat area is just about done. All I have to do is finish the armrests that mount on the rear side panels, and I'll be done out back!

The dashboard from Michael Greenspan's 330 America made an appearance at Frank's shop this week. While the car is at François' getting the engine rebuilt, it was thought to be a good time to refurbish the dash. I was persuaded by Frank to re-do mine as well because he was not happy with the level of craftsmanship from the previous job. Since Michael is going to have his done, Frank can make another dash for mine, so the leather will be ready for installation when I get to it.

The dashboard is a real inhospitable place for leather. Exposed to sun, heat, and lack of moisture, the leather can shrink very badly. There is really nothing that can be done here but replace the leather on this instrument hood.

Here again is the Pininfarina Assembly Number for this car. All Pininfarina parts should be labeled "652" on this car which has The Ferrari Serial Number, "4969."
Previous Restoration Day
Next Restoration Day
Home page