Parts Laying in Wait
5/23/04
Parts Laying in Wait
The month of May has been a tough month for working on the Ferrari. I know all of you out there with kids are saying "I told you so!"…but I will persisit in finding the time to finish this car! My daughter is only four months old, so I'm still trying to juggle this whole "fatherhood" thing, but I know I'll get back to the Ferrari!

If I can't work on my car directly, I can at least collect the parts I'll need for the final finishing. One of these areas is with the window cranks.

I need to fabricate small pieces of metal that fit in a slot in each window crank handle. These parts look like woodruff keys, and keep the handle from coming off the window crank shaft.

This piece is known as a window crank "escutcheon." I finally looked this word up in the dictionary after using it for many years for similar parts on other cars, and Webster says it means: a protective or ornamental plate of flange (as around a keyhole).

This escutcheon has two pieces where a spring is to keep tension against the crank handle, keeping the woodruff key in place.
Unfortunately, my car only came with one of these escutcheons. Ferrari, or I should say Pininfarina, made many different profiles of these pieces, so finding another one would only happen if I found one from another GTE or 330 America. For the last five years, I always knew I would eventually have to find this part for my car, and always kept an eye out for it whenever I saw parted out GTEs or Americas. During my search, I mentioned my needs to a fellow Ferrari owner and dedicated collector, and he showed me a collection of escutcheons he had made up from scratch for his present and future restorations. I felt like a kid in a candy store knowing that one of these escutcheons was a perfect match to the one I had for my car. Unfortunately, I didn't have mine handy at the time to check, but his offer stood to supply me with the right escutcheon when I needed it!
Fast forward two years later, and I only hoped the offer still stood. I was in luck, and after some precise measurements and descriptions over the phone, I had a new escutcheoon in the mail to me!

The reproduction is a much better piece than the original. I believe it was made from a solid piece of brass or bronze, and chromed to high shine. The original piece was pressed steel, and much lighter.

When mounted behind the window crank, no one will be able to tell the difference, but I will always be able show the generosity of a fellow Ferrari restorer! Thanks!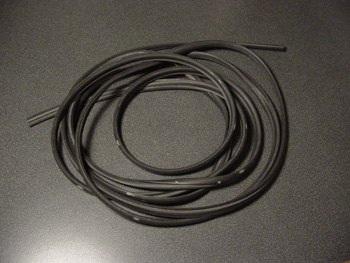 Another package came in the mail for me last week. It was from Paul Leonard, a Series II 330 GT 2+2 owner who has a roll of grill rubber he brought back from Italy. Paul has located many orignal vendors in the Maranello area and stops by to pick up supplies for his restoration when he's in Italy for business. Paul had purchased a roll of the weatherstripping that seals the grill to the body of the car, and I called him to see if he still had some.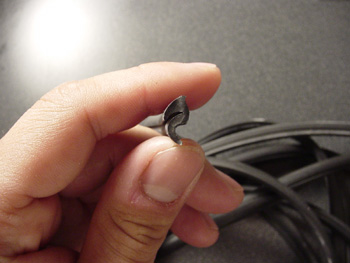 I needed 100 inches of the stuff, and Paul immediately sent some to me in the mail. It's an odd shape, and whenever I see it, I wonder how it will actually fits on the car. Thankfully, I haven't removed the old stuff from the grill, so it will all become apparent when I get to it sometime in the future! Thanks Paul!
Previous Restoration Day
Next Restoration Day
Home page