A Great Ferrari Day
6/20/04
A Great Ferrari Day
I had one of those jamb packed Ferrari days that leaves you exhausted, but pretty satisfied. It all started with looking at some Ferrari parts…
I received a phone call a few weeks ago from a gentleman that is selling a large collection of Ferrari parts. The parts belonged to Jerry Curtis, a fellow Ferrari enthusiast that spent more than 20 years collecting Ferrari cars and parts. I met Jerry when I began my hunt for my Ferrari, and started a friendship when he helped supply my 330 America with the parts I found missing during my restoration. Unfortunately, Jerry was diagnosed with a brain tumor, and battled its effects for the last year of his life. He passed away last year. Not knowing his family very well, I didn't know who to call to send my condolences, and not wanting to appear like someone who only cared about the Ferrari parts, I felt it was best for me to stay away. As Jerry's wife and daughter began settling Jerry's business, they asked a friend to help dissolve Jerry's cars and parts, and that's when I got a call.
Dino owns a consignment shop in Connecticut, and agreed to help sell the parts. Although the family would love to sell all the parts at once, they are considering selling whatever people are willing to buy. They are advertising in FML, and Cavallino, and I felt it was an opportunity for me to go up and have a look for myself. I always enjoyed visiting Jerry when I needed parts for my car, and always left with a few extra parts "just in case," and I knew if someone came in and bought the whole collection, I would loose this opportunity forever!

The only complete Ferrari in the shop was SN 5263. The engine has been started, but it really needs a complete restoration. I hope someone buys this car to restore, and not part out like most of them.

Jerry was not innocent from the parting out of these cars! Here are two GTE transmissions to prove it. The engines were probably sold off years ago, but the overdrive transmissions were left behind. I'm tempted to buy one of these things "just in case!"

Dino and his employee, Jim, have tried to organize the parts, but it's still largely in disarray. In this picture, I see two gas tanks, splash shields, a transmission cover, and GTE/330 trunk lids.

How about a box of Series I 330 GT 2+2 Bumpers?

Jerry did try to keep things organized with boxes of coils, headlight buckets, and electrical switches.

Even with the organization, there were boxes on top of boxes of surprises. I visited the shop with three other Ferrari owners, and we all felt like four kids in a candy store! It was very hard not to buy Ferrari parts that you may never use, but would be cool to have. I guess Jerry suffered from the same problem.

I kept seeing parts that I could swear some one had once asked about before on my website. Here's a front license plate bracket that I'm sure someone with a Vintage Ferrari could use! I had Dino put this aside for me in case someone needs it. E-mail me if you want it!
As morning quickly turned into Noon, we realized we should continue on with the rest of out Ferrari Day. We had plans to go to the Hartford Concours, but I was tempted to stay and keep looking! I guess it's pretty sick to admit I would rather look at old rusty car parts more than shiny show cars!
What did I end up buying? Like I said, it was very hard to exercise self control, but I walked away with a small box of parts. I got a whole bunch of trim screws that are very hard to find, and small interior pieces that were in better shape than the ones I mounted inside my car. Instead of rechroming what I currently have, I can now replace the pitted chrome pieces with the ones I bought.

One of the cool things I got was another 330 America badge! This one was missing a mounting post, and needs to be replated, but it was still a great to have. Considering there were only 50 of these cars made, I may now be the only person in the world with two 330 America Badges!

Another great find was the left interior trim piece for my car. The timing couldn't be better considering I was working on the right one last week, and agonizing over how I was going to get the left one fixed. The wild thing was as I was looking through a pile of trim pieces and this was the only rear quarter window trim I found. Now Jerry parted out several 250 GTEs so you would imagine there should be several sets of these pieces laying around, but on the contrary, this was the only one, and it was exactly the one I needed! Jerry must have been looking down from wherever he was to help me with my restoration!
It's not perfect, and will need some straightening, but this one, at least, is in one piece. When I stripped off the old vinyl, I found a PF number "447," and with some telaio research from Kare in Helsinki, he told me that this trim piece was originally fitted to GTE #4257, who is now a Testarossa replica!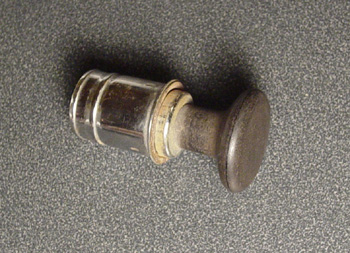 I also got this lighter for my car. It may look old and faded, but it is correct for my car because it has the right shape. These are not easy to come by, and I was lucky to find it in a box of miscellaneous parts. With some cleaning and polishing, it will look great in its new home, my 330 America!
I plan on going back to Jerry Curtis' shop in a few weeks, and can see if there are any parts you need. What I've done for others is have Dino set parts I've found for owners aside. They can then contact Dino about price, and shipping. He is not a "car guy," let alone Ferrari knowledgeable. He's had a lot of people try to buy these parts for dirt cheap and doesn't think it is fair for Jerry's wife to get ripped off, but will be fair with anyone who wants to buy parts, especially owners like us. Let me know if there is anything you need!

We continued on with our Ferrari day by heading to Hartford Connecticut for the FCA Concours. It was a beautiful day, and being out in the sun was refreshing after digging through all those dusty boxes!

They paid respect the the elders, and put all the Vintage cars on the top steps of the capital building, either that, or it was the only group of cars that would fit in that small space! The post '74 cars easily outnumbered the older cars 10 to 1. The two 330GT 2+2s in the foreground belong to fellow tomyang.net viewers Buddy Obara, and Michael Bayer.
I want to thank Buddy for sending me these pictures because, although I brought my camera, I was so busy yaking away about Ferraris with everyone I forgot to take pictures. I didn't get to meet everyone I wanted, but Yale, Michael G, Michael B, Bill, Josh, and Buddy, all got to put some faces to names from the forum. Maybe next year, my car will be able to attend!
Previous Restoration Day
Next Restoration Day
Home page