Finishing Touches
7/7/04
Finishing Touches

The first thing I did today was to get the dashboard to fit even better than last time. The first picture was how far I got about a week ago. If you look at the far right edge where the dash ends, you'll see a small gap. The flash of the camera really accentuates this gap, but I'd imagine when I take this car out in the sun, this gap will be no less apparent.

All the mounting screws for the dash were tight, and yet I could still flex the dash to close this gap, so it was time to ask Frank for some advice. He looked at my problem, and immediately found a solution. He showed me where to secure the dash with an extra screw to make everything pull in tight. Now the dash is firmly mounted, and the gap is gone. There is something to be said about experience!

Moving on to the passenger side kick panel, it was time to mount the vent plate. Before I installed the kick panel, I poked locating holes for the vent through the leather, and waited until the panel was firmly mounted in place before I drilled the through holes for the plate. With the panel mounted, I cut out the leather in the panel to fit the hole in the car for the vent.

Although the vent seems to be mounted low for my taste, it is using the same holes originally in the aluminum kick panel.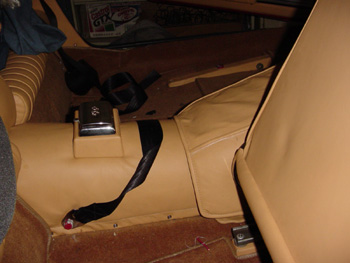 The next step was to mount the rear ashtray. It gets its own mounting pedestal.
It's really coming down to the final finishing touches on the interior of this car, but it seems to be taking forever. Making sure trim pieces fit properly often means taking them off, bending them a little and remounting. Although this does not make for an exciting web entry, it's still necessary to make sure everything looks right. Hunting down screws and bolts is also taking a bunch of time. Living in America where most hardware stores carry SAE fasteners doesn't make it easier. I know there are quite a few metric suppliers I can use, but nothing beats holding bolts and screws in your hand compared to ordering them through the mail, or working with a counter person. The progress is slow, but at least I'm still making headway!
Previous Restoration Day
Next Restoration Day
Home page