Reproduction Seat Foil
7/31/04
Reproduction Seat Foil

It has taken several months, but a source of reproduction seat foil has be found! Thanks to Michael Greenspan, a manufacturer has been found that makes the elusive mylar foil that covers the bottom edge of late 250 GTEs, 330 Americas, and 330 GT 2+2s seats. It is not an exact copy, but so close that the only way to see the difference is to lay it next to the original stuff.


This foil is glued directly to the leather seat, and usually gets destroyed when it is removed during the reupholstery process. I have seen many cars with new leather interiors missing this piece because the upholstery shops simply threw this part away and didn't replace it with anything. It's purely decorative, but essential if you want the interior to look right!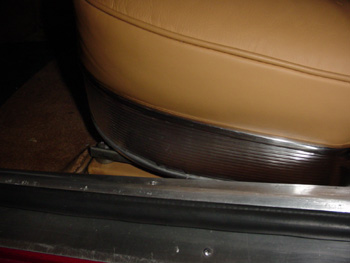 I was actually able to save my original pieces, but wish we found this stuff a few months earlier. The mylar dents real easily, so mine don't match the level of workmanship of the rest of the interior, but I guess I'll live!
Now, if you want a set for your seats, I believe you will need a 23X4 inch piece for each of the seats, and I will be selling them for $55 bucks a set including packing and shipping in the U.S.. I'm not sure how many I can cut out of the roll, but there should be enough to do for now. If you think you're going to re-do your seats in the near future, I would get some now. When I run out, I don't know when I'll reorder.
I'm accepting checks, but I also have a paypal account set up when you use my e-mail tom@tomyang.net
I'll start shipping these out after I get back from Monterey in August, but I can also bring some out to California if people want to pick it up out there. Just give me an idea how many want to pick it up, and I'll make sure I cut out enough. I'll charge $50 a pair if you want to pick it up in Monterey.
Previous Restoration Day
Next Restoration DayHome page