Monterey '04 II
8/24/04
Monterey '04 II

Laguna Seca was buzzing with excitement with the prospect of seeing all the GTOs present on the Monterey Peninsula driving on the track at one time.

There was over a dozen of them and two 250 SWBs mixed in.

As they passed, I realized I just saw 200 million dollars of cars drive by!

I got to Pebble Beach at about 6:30 am to beat the crowds. I also had a noon flight to catch back to NY, so I didn't have much time.

I snapped pictures of things that caught my interest. I liked the way the interior of this car matched the lines of the bodywork.

Here's a Vintage Rolls Royce engine. Look at the tubes that were used to separate the ignition wires.

Of course there were Ferraris!

…and at least one GTO.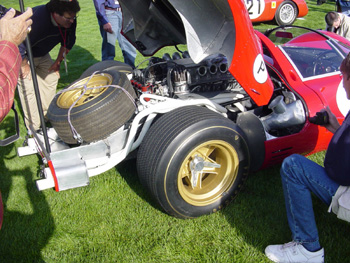 It's always nice to see a race car present on the lawn at Pebble Beach.

I left just as it started to get crowed. At 10 am, it was starting to get hard to get near the popular cars. I still had some people I wanted to meet and talk to, but I had to catch my plane. As I got off the shuttle bus that took me to my car, I was amazed at how many more people were still coming it. As much as I wanted to stay, I was kind of glad to be leaving all this for next year!
Previous Restoration Day
Next Restoration Day
Home page