Emblems
9/3/04
Emblems

Even though I announced the completion of my car a few weeks back, I'm far from done!? Yup, on second thought, I have a ton of stuff still to do, and one of them is to install the badges on the car. Michael Greenspan, who now owns 330 America #4969 took some pictures of the emblems on his car so I would know which one's to order.

Black Barts Emporium, a mail order shop that specializes in Italian badges has most all the emblems I would need, but since 330 Americas were made at a time when Pininfarina changed some of their designs, I wanted to make sure. The Pininfarina Script I got looks pretty good, and was the correct size.

The Pininfarina badge is what was different. Early cars got this two-part badge, while later cars got a one-piece badge. Upon closer inspection of Michael's pictures, I can see his car has the two piece badge. #4969 has never been restored, and has had only three owners since new, with the last owner keeping the car for 35 years. This fact allows me to be pretty sure that the badges on this car are correct, so I ordered the two piece badge.
Unfortunately, getting these two badges on each of the front fenders will be a little involved. I'll have to jack the car up, remove the front tires, and remove the inner fender splash shields to get behind to where these badges mount. I think I'll save these for another time! I'm going to mount the easy ones first!

I also needed a new nose badge, so I figured out what was correct and ordered that one as well, but I noticed a problem when it arrived.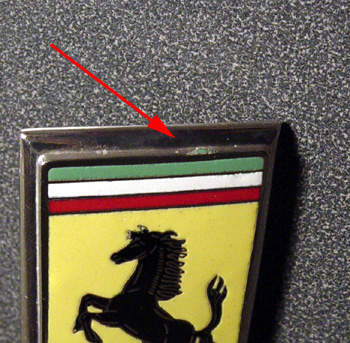 There was a globule of green enamel that was baked on the badge edge. This enamel was not coming off by scraping it with my fingernail, and was probably permanently adhered to the badge. With the attention spent on this restoration, I was not about to mount a defective nose badge! I called Bart, and we'll be trading this one in for one closer to perfect!

The crossed flags on the rear trunk lid also changed over the years, so it was helpful to have pictures of an original one to compare. It also helped me position these emblems on my trunk since many of the holes were filled in when the car was painted by the previous owner.

One original badge I still had was the Ferrari letters. They're a little bent, and worn, but I kind of like having it grace the back of the car. It had the honor of labeling this car when she left the factory 40 years ago, and will continue to have that honor now that she's back on the road!

Another helpful picture was the placement of the 330 America badge. Michael sent this one he took last week.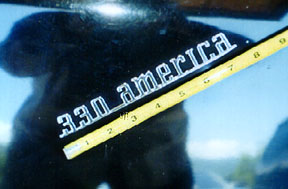 Looking in my records, I still had the pictures of the same badge when Ed Garbut owned this car!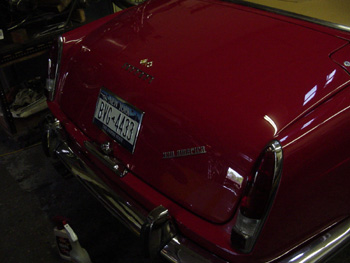 While carefully comparing the pictures, and laying down some tape to line things up, I went ahead and drilled the three mounting holes for the badge. It's nice to see the car is correctly labeled at the rear!
While I was pulling back the carpeting that covered the inside of the trunk lid, I found no evidence of previous holes for a 330 America badge. Ferrari historians claim that not all 330 Americas got badges. The theory is that as the 50 330 Americas were being built, badges were made to differentiate these cars from regular 250 GTEs, but as the supply of badges ran out and more were ordered, they did not wait to ship the cars simply for a badge.
You can go here to read about how I got this badge!

After I got my fill of mounting badges, I continued cleaning my interior. I also conditioned the leather surfaces with some Lexol since none of the leather has been moisturized since it was sewn. Frank and I went through the interior as he inspected my work. He wants to work out the wrinkles in the center tunnel, and fix a couple of problem areas he's found. This area behind the driver's seat needs some work. He wants to fill a gap under the painted trim piece, and there are a couple of dimples in the leather that he doesn't like and wants to get rid of them.
Although next week, I wanted to take the car up to François to install new tie-rod ends, Frank wouldn't hear of it. He told me he wasn't letting the car out of his shop until he was happy with these few items, so I guess I have no choice! The restoration continues!
Previous Restoration Day
Next Restoration Day
Home page