Finding things to do While Waiting
10/15/04
Finding Things to do While Waiting.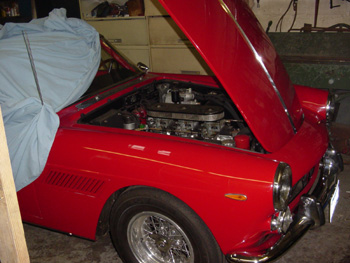 I've been talking about taking my car up to François' shop now for over a month for new tie-rod ends, and I have yet gotten a chance to do it. François was out of town today, so I'll have to wait some more. It was a rainy dreary day today in NY, so not having to drive the car up in the rain was probably a good thing. Considering I don't have a working windshield wiper motor, not only was it better, but also safer to wait for a clear day. I've found Rain-X works for about 30 minutes before it washes away!
I found the battery I put in the car to be dead, so I took this down time to charge it up. I brought a spare battery down to Frank's shop and will try to see why the tar top battery went dead so quickly. With a fresh battery, the engine fired right up, so I'll be ready to drive the car when the time comes.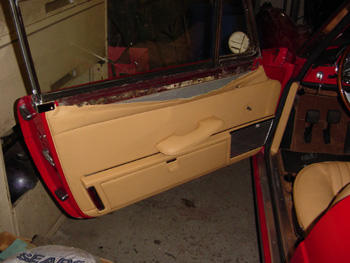 I decided since I had a whole day to kill, I would try to figure out why the driver's side door wasn't closing properly. This door always seems to take a little too much force to shut completely, and I felt it had something to do with the alignment of the window frame. Of course getting access to these adjustments required me to take the handles, trim pieces, and door panel completely off.
I'm sure many of you are thinking I'm never going to finish this car, but I swear I'm just trying to make her perfect!
After messing around with the adjustments for an hour, I got the door to close marginally better, but at least I got to make use of another "Ferrari Friday!"
Previous Restoration Day
Next Restoration Day
Home page