New Home for the Ferrari
11/19/04
New Home for the Ferrari
I had a real busy day shuffling my cars around. It all began with a visit to François' shop to drop off my grille and pick up two cars I had stored there. The grille needs some final fabrication that is a little beyond my ability, so I'm having some expert metal workers François knows to do the work. When it returns to me, I'll be able to do the final polishing and installation. The shell will probably be rechromed over the winter, so stay tuned for its progress.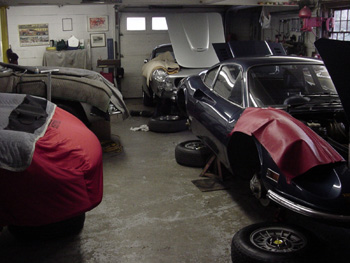 I'm always up for a visit to François' because it's always filled with beautiful Ferraris in various states of repair. To me, it's better than seeing these cars at a car show or in someone's personal collection because I get to see them also for their mechanical beauty. How often do you get to see suspension, brakes, and engines exposed to marvel at their design and craftsmanship? Today, we had a 246GT Dino, a 250 Lusso, a 500 Superfast, a shortnose 275GTB, and a Daytona to admire. You'd be lucky to have such representation at any Concours!

François and I chatted about a number of topics while he worked. The restoration on the 500 Superfast is coming along beautifully, and every detail has not been missed. This brought us to an interesting issue on creating a Concours correct car. The stickers for the heater hose are available from Parker Hall at Kilimanjaro Designs. The hose was manufactured by Pirelli, and a diamond shaped sticker was occasionally found on the thin heater hose you see running along the inner fender. When François worked for the Ferrari Factory in the sixties, he saw this hose being installed in the cars when new. Large rolls of heater hose came from Pirelli, but these stickers were found only about every several meters. When you see a show car, these stickers are seen in abundance on the one or two meters of hose in the engine compartment, sometimes they are even perfectly lined up with the one below it! I can easily see how some original cars would not have had ANY stickers on their hoses, and yet what would be correct for a show car? Would a Ferrari Judge favor a car with the half dozen stickers perfectly in line over a Ferrari with perhaps one randomly placed sticker? It's an interesting discussion to bring up with a Ferrari Judge at your next Concours!

The next order of business was to get my car out of François' shop and up to her new home, my house in Upstate NY. I also had my Sunbeam Alpine stored at François, and it was time to move her as well. Unfortunately, due to my neglect in not driving my Alpine regularly, the clutch as rusted to the flywheel. No amount of driving, shocking, or weight in the car has been able to free it, so a tow was in order.
In times like these, I can't imagine anyone with a classic car without AAA Gold membership. For about $85 bucks a year, this membership offers a host of services to us in the U.S., one of them being 100 miles of free towing. One tow, for almost any distance a year more than pays you back for the membership. Having my Alpine on a flatbed allowed me to lead the way to my house from François' with the Ferrari, making this trip only once.
The drive up was about 60 miles on state highways 5 mph below the speed limit so the tow truck could keep up, and the Ferrari did not like it at all! She really prefers to clear her throat ever now and again, and you can sense that in the popping and spitting I hear from under the hood. One set of needle valves is sticking a bit as well, so this compounded the off idle occasional pop, but overall, she ran great. It was a relatively warm mid 50s day, so it was perfect driving weather. Although I have not experienced a hot day in this car, the two hours of driving did not warm the car's interior at all. In fact when the sun went down, it got colder, and I found draft blowing up from under the dash. Having sealed everything I saw before the carpets went in, I tried to imagine what I missed. It soon became apparent it was the steering shaft seal. There is a simple rubber grommet that sits on the firewall that is supposed to seal the steering column from the engine compartment, but even a small gap was enough to allow enough cool air to chill my crotch! I'll find a solution and add it to the list of projects for the Ferrari over the winter.
As it got dark, I started trying out switches I haven't operated since I assembled them years ago. My Ferrari has independent circuits for headlights and instrument lights. Having a British car, I'm always prepared for some catastrophic electrical event whenever I switch on the lights in a classic car, no matter what make. I guess George Lucas has made an indelible mark on my psyche! Luckily, nothing happened except the road ahead was now lit. The next switch to hit was the instrument panel. With delight, my gauges glowed bright with the dimmer switch. It was still too bright to really need the gauge lights, but it was nice to see…wait, a minute, why were the temp gauges all pegged!? Oil and Water gauges all seemed fine a few minutes ago, so what happened? I didn't feel the engine misfiring, or acting strangely as they do when they get hot, so it was probably something else. Since the instrument lights were the most recent thing to be turned on, I turned these off. My temp gauges immediately went back to normal. I must have some wires crossed.
Trying to picture the path of the electrons through my gauges, I tried to diagnose the problem. The temp gauges work with a common electrical source, which passes through the gauge and out to the particular sending unit. The sending unit decides how much resistance to ground is allowed depending on what temperature it's reading. No resistance from the sending unit pegs the gauge. Somehow I have the gauge light wired into this circuit. The hardest part in fixing the problem will be getting to the back of the gauge. It's a good thing I'm planning on removing my Speedometer and Tachometer over the winter to replace the lenses. I'll get to the bottom of this then, until then, I won't turn on the instrument lights!

One of my main reasons for buying a second home was to store my cars. The fact that we have a place to retreat for the weekends from NYC, and my baby will have a yard to play in could be seen as a by-product! The only problem was finding a house with enough room for three cars, and was still within what I could afford. The house we bought last year fulfilled all my requirements, at least in theory. The test was to see if three cars would actually fit!

Eventually, I would love to install an I-beam to clear the garage under the house of support beams. This would allow me to drive up to four cars into the house, but for now, I just wanted to get three cars in with some creative maneuvering! Well, after the use of some dollies, floor jacks, and brute force, I managed to get all my cars inside for the winter. The Ferrari can drive straight out, while the Mustang can be out in a matter of minutes. The Sunbeam is buried in the back, but will need to have her transmission removed to get the clutch unstuck, so she's out of service anyway.
On a side note, don't forget to dehumidify your storage space to avoid rusted clutches! Heated garages seem decadent, but the reality is they keep the humidity down, and stops rust from forming. Anything less than 65% humidity keeps mildew from forming on the seas, and rust from forming on the cars! On top of having some heat in my garage, I also have a dehumidifier running. It's cheap money to protect the cars.
By the time I finished getting everything in place, it was well into the evening. After dinner, I decided to take the Ferrari out again for another drive, unencumbered this time by a trailing tow truck. Running in front of my house, she has such a specific sound that people take notice. I saw my neighbor peeking out their window trying to figure out what kind of car I had in my driveway with that interesting rumble.
Years ago when I chose to buy a GTE/330 America, one of the main reasons was price. A Lusso was out of my league, and the 2+2 cars were the only way to get into a vintage V-12. The more I drive this car, however, the more reasons I have for buying a 330 America over a 2-seat Ferrari. Besides the extra room, the lines of this car are much more subtle than say, a Lusso. I can drive in traffic, and most people don't even notice. Only once on my 60 mile drive from François did I get an approving wave from a passing motorist. I like being under the radar. The other great thing about the 330 America is, although it resembles a regular family car, it's rumbling V-12 tells you it's something more. I love the amount of power you can exhibit at any given moment when cruising around town. Man, I'm loving this car!
Previous Restoration Day
Next Restoration Day
Home page