All Things Ferrari
1/7/05
All Things Ferrari
With Winter making it's first real appearance in the Northeast this week, I'm sure glad I took the car out for a spin last week, because who knows how long it'll be the next time the Ferrari sees the light of day! Even though I couldn't drive the car, there was still plenty of Ferrari things to tend to for my "Ferrari Friday."
First off, I spoke to Mike at D& M Restoration about my speedometer and tachometer lenses, and it turns out I won't have to send him mine after all. He has since found a good example to copy, and already printed my set. They're in the mail as I write this, and should have them in my possession early next week…and I thought I would be without my gauge lenses for several weeks!
I also got word from a fellow 330 America owner how satisfied he was with the work Mike did on his lenses and gauges. If you want to get your lenses cloudy gauges replaced with new lenses, first read this, and then contact me. You won't be disappointed!

If you remember back a couple of months ago, I tried a battery a friend gave to me for the car. Unfortunately, lead acid batteries don't like to sit unused, so I may not be able to revive it. I started looking for suitable replacement, and another 330 America owner's brother in-law (I stay in touch with at least 6 330 America owners) can supply me with a battery that resembles the tar top battery, but has all the modern qualities of sealed battery.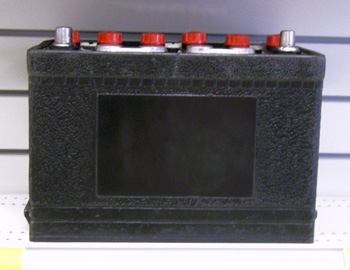 The AGM (Absorbent Glass Mat) technology is a lead acid battery that uses the glass mat to keep the acid in place, and does not need to be vented. The case is completely sealed, and will not spill. Optima batteries use a similar technology, but they are spiral wound, making them resemble a six pack.
The battery I bought is an AGM battery, but it is installed inside a case that looks like a tar top battery. If you want to order one of these, contact Jerry Sample at: bp152@verizon.net
The price for this one is normally $350, but is being offered to us at $320 if you tell him you heard it from me. He can also supply regular lead acid batteries with the identical cases for $220 which gives you a $20 dollar savings as well.

I stopped by François' shop today for a visit, and he had a nice 246GT Dino in his shop. Coincidentally, a viewer recently asked if I could help him fabricate a new glove box door for his Dino. I took some pictures and measurements of this pristine example, taking notes on where the stitching lies…

…and how the inner panel is attached. I guess since I refurbished my interior, I don't look at upholstery the same way anymore. I pay a lot more attention to all the little details that I never noticed before.

Although this picture is out of focus, it's trying to show the form of the padded door. There is a specific shape that makes this door, and I'm pretty confident we can replicate it, but it will take some sculpting.

Continuing with my visiting on this blustery day, I stopped by Frank Segreto's shop where I spent a year reupholstering my interior. He's working on another GTE at the moment, and has found something interesting. You may recognize these seats belonging to Scott Garvey's GTE. I've written about Scott's car in the past, and it is now getting a new leather interior to replace a vinyl interior a previous owner installed.

Scott's car is a Series I GTE so the seats are different from mine. They didn't have the foil trim along the bottom edge of the seat, and if you look at the first picture, the seat track adjuster is a full bar that spans the full front of the seat. The other detail that is different to my later series seats is there is no recline adjuster like mine.

You can really see the difference when you look at a picture of my seats.

The biggest mystery is in the way these seats are constructed. There is a fiberglass seat pan holding the foam in place on the bottom of these seats. Frank has never seen this before, but he's not sure if he's ever restored a Series I GTE. At first glance I doubted this was originally Ferrari, but I'm now not so sure. There doesn't seem to be any seat frame structure to hold webbing like my seat frame, but the fiberglass work on this car seems too crude to come from the Pininfarina factory. Would they have even used fiberglass in 1961 when this car was built?
I'm looking for your help to help solve this mystery. If you own a Series I GTE, go out to your garage and take a peek under your front seats. Do you see a fiberglass seat pan that looks like this, or do you see rubber straps holding the foam up? With so many people working on these cars over the years, it's getting tougher to know what's original anymore!
Previous Restoration Day
Next Restoration Day
Home page