Kick Panels
1/26/05
Kick Panels

Last week we got about a foot of snow at my house where I keep the Ferrari. With the way we have to plow the driveway, a pile of snow about four feet high now sits in the way of freeing the Ferrari from her winter tomb. I guess it's just as well because the roads are pretty salty.
Although my garage has some heat, the temps outside were in the single Fahrenheit digits, so there was very little motivation to work on my car when the alternative was to sit by a warm fire, but I managed to get a little work done.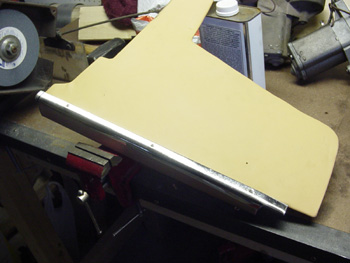 One thing I realized I left off the interior of the car were these chrome trim pieces for the kick panels in the front foot wells. I believe my original ones were misplaced at Frank's shop when one of his workers moved my parts in his shop. Luckily, I found a set a few months ago from a stripped out GTE.

Even though (surprisingly) the screw holes lined up with my panels, they still needed some minor trimming to fit my panels. Since these pieces were made out of soft brass, they were easily cut with my Dremel tool with a cut-off attachment.

Here you can see the panel mounted in place. This chrome strip is very important in minimizing the scuffs from your feet when getting in and out of the car. Without it, my toes would scratch that corner every time I got out of the car.

With the left panel done, it was time to move onto the right panel. With my tan panel next to the red donor panel, I noticed the grille orientation is different in this picture, so I should probably turn mine 90 degrees to match. Another thing I noticed is the shape of these two panels are not exactly alike.

The portion that clears the glove box is different, showing how Pininfarina changed these cars over the production run.

After trimming some of the trim strip off the top, I tried fitting it again. I saw that a little more trimming was now needed at the bottom.

I roughly marked the area that would have to be removed with a marker, and saved it for next time. It was about 50 degrees F. in the garage, and a fire upstairs needed tending!

Even though this web site is mainly dedicated to my cars, I wanted to take a moment and give a shout out to my daughter. She had her First Birthday last week on the 15th, and I'm honored to have shared my last year with this little girl. Happy Birthday Ellina!
Previous Restoration Day
Next Restoration Day
Home page