Searching for a Motor
3/13/05
Searching for a Motor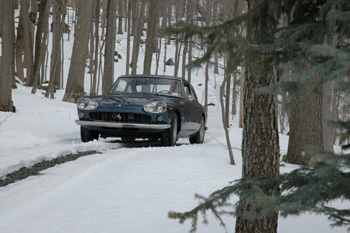 Always up for an excuse to stop by François' shop, I agreed to meet Yale, to drop his car off and give him a ride back to NYC. He wanted me to take this picture to prove he drives his Ferrari in all types of weather! François' driveway is a little hilly, and Yale gave the Frenchman a try at getting it up the last hill. Stepping a little sideways, the 330 couldn't make the last bit, so we ended pulling her the last few feet with the truck, but she's now safe in a warm dry garage!
The picture looks worse that it actually was. The roads were clear and mostly dry on Yale's drive up, but the shady driveway kept the snow from melting from the night before. I still give Yale credit, however, for driving the car in such unpredictable conditions.

Always better than most Ferrari showrooms, François shop did not disappoint. Currently, he has a pair of 275GTBs (a long nose and a short nose), a Daytona, and a 250GT LWB California Spyder.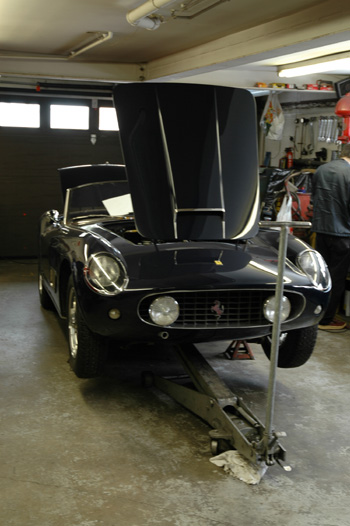 The Cal Spyder was a beautiful car. With only about 46 Long-Wheel-Base Spyders made, I knew I was looking at a rare car. This particular car is 1411, and has some special features ordered from the factory which François plans to restore back to original when he performs a ground up restoration. Much of the bright work was made in stainless steel, and a dashboard with special instrumentation was ordered by the original owner. After a crash and subsequent fire in the 60s, this car was found in a wrecking yard in Louisiana, missing an engine and sold as a basket case. The last restoration changed some of the original details of the car and was completed by the early 90s with an engine bearing the number 0939.

François wants to try to find the original engine to this car, and it seems like an impossible task that I would love to give a try! Taken out of the car in the 60s, who knows where it could be today, but I'm also hoping with the power of the Internet, and the amount of eyes and ears that can help in this quest, we may have a better chance at succeeding than ever before. Maybe we can all learn something from this search.
Here's some of the the information I have on the car at the time the engine was separated from the car:
Jan 1967 imported to USA from Italy
Seriously crashed and burned
Sometime in the 80s, found in Louisiana Junkyard
Sold to Joe Alphabet of Newport Beach CA
June 1986 Sold to Martin Emmison who owned and restored the car through Terry Hoyle Engineering
I'd imagine the place to start looking if no one knows where engine # 1411 is, would be to ask Joe Alphabet where in Louisiana he bought the car from. Does anyone know if he is still around, and still into Ferraris? Perhaps we can find where the junkyard was and who they may have sold the engine to. Another idea is to find out who exported it to the States, and who crashed it, and where. Anybody have any other ideas?
Kare Pietila provided what he may have on some of these engine numbers, but as you can see, it may not have much to do with where engine 1411 might be today.
Pretty confusing. I have notes of:
– Engine 1411GT being with Court Whitlock and kept as a spare engine
for 212 Export 0100E.
– Engine 1141GT (not 1411GT!!!) being in 0297EU as installed by RRR-
motors in the 1960's. It seems that engine 0297EU was with 0100E
and a swap may have been made: 250 GT engine (which number???)
against 212-engine 0297EU.
– Jeff Lewis treading a restamped engine against original unit from
Whitlock. If 0939GT is still in 1411GT, I guess Lewis got 1141GT
from Whitlock for 1141GT (250GT TDF) and *NOT* for 1411GT (250GT
Cal Spider). I have Lewis owning both cars, but think he only
owned the TdF…
So: no help found in my files.
I believe François already contacted Gerald Rousch, and turned up nothing significant, but I would love to hear what else people may be able to add. Thanks in advance for your help!
Previous Restoration Day
Next Restoration Day
Home page