Grille IX, I Think
4/1/05
Grille IX, I Think
It's scary to think my first entry about the grille on my car was dated January 11th, 2000! This may be the ninth installment, but who knows exactly how many times I've talked about this grille over the past five years! It's becoming one of the last things that holds me back from finishing this car, but each time I see it, it's getting closer to finishing!

I got a call from Mark at the Panel Shop the other day telling me he made some progress on my grille. Having Spring Fever, and needing any excuse to go look at car parts, I took the first opportunity to go up to Stratford, CT to have a look. The first picture shows that Mark has rolled new end pieces for the grille shell, and fitted them to the chrome surround.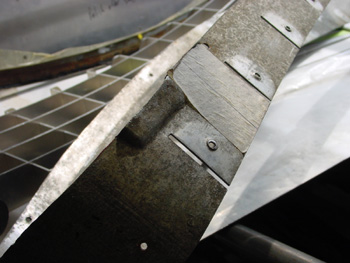 One of the parts I could not form for the shell because it was beyond my ability was this scalloped piece of aluminum that keyed into the chrome surround.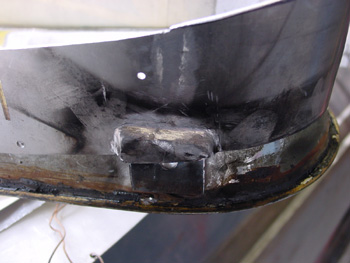 Although still rough, these shapes were formed by Mark's experienced hands matching the original part. He had some difficulty with the aluminum we provided because it was a harder alloy than what was originally used. 1100 alloy is almost a pure aluminum, and is very soft and pliable. It was what was used originally on Vintage Ferraris. We used a harder 5052-H32 alloy to form the grille pieces, so Mark was forced to use it as well in his fabricating. The harder alloy did not form as easily, and would try to crack when he welded it. He finally managed to get the metal to cooperate, but he advised me to use the 1100 stuff if I ever do another grille!

Mark wants a little more time to clean up his work and get it to fit together perfectly, so I reluctantly left the shop empty handed, but I hope to get it all back to my shop for the hours and hours of wet sanding and buffing ahead!

While I was at the shop, I took a look at the progress Mark was making on the Lusso that François is restoring for it's original owner. Mark has fabricated a complete floor section from the rockers to the frame rails on the right side of the car. It seems this car was very rusty from the doors down, so the same will be done with the left side of the car. Again, much of this craftsmanship will be hidden under the car obscured by the mufflers, but here's our chance to see what nice work is being done on this car!

As I was leaving, a 330 America was pulling up at the shop on a flatbed. I immediately recognized the car as Peter Kalikow's, so I stopped to talk to Mark (another Mark) about the car. Kalikow's guy was bringing it to a neighboring shop for an inspection and clean up to attend an upcoming show. There's a new Concours in Westchester http://www.scarsdaleconcours.com/ and this 330 America will be attending. I contacted the guys at this show, and they would love to have my car parked next to Kalikow's but I'm not sure it I'll be able to make the May 15th deadline. I'm also concerned about parking my car next to a 330 America that is basically perfect. Mine is nice, but certainly not perfect, and will leave a lot to be desired when you compare it to Peter's car. Dilemmas, dilemmas!
Previous Restoration Day
Next Restoration Day
Home page