Southern Ferrari Owner
4/18/05
Southern Ferrari Owner

I took a week off to take my family south to Savannah GA to visit my sister and brother-in-law, but had a chance to visit a Ferrari Owner on the drive back to NY. Tom Farrell lives in Mooresville, NC and owns a Series III GTE that he's doing a ground up restoration. His shop is one to be envious of, as there is plenty of space, light, and tools to do the work on a Ferrari.
We spent some time doing what I love most, which was looking at all the various parts and pieces that have been taken off this car, and talking about what he plans to do with them. Tom's car is pretty rust free, especially since he has recently finished media blasting the whole car, revealing any hidden rust. The lower rockers are solid, along with the outer frame supports. There is a small amount of rust in the rear floor pans, but from the looks of Tom's shop, he should have no problem fixing these issues.

He's got a lot of work ahead of him in paint, interior, and reassembly, but it's nice to see someone giving the skill and care these 2+2s deserve. When this car is done, it should be a very nice GTE.

What was just as interesting as the Ferrari in the front of the shop, was what Tom has set up in the back of his shop; a CNC machine! I can't think of something better to have in your garage to fabricate just about anything you need from billet stock, but unfortunately most of us don't even have the skill to operate one of these things!

Tom has already put his mill to good use for Vintage Ferraris where we have benefited from its results. He made a jig and programed his machine to cut the lenses for GTE Speedometers and Tachometers. (You can also see some of the other things he's making in the aluminum flame badge seen in he upper right corner of this picture).

We've found Vintage Corvette speedometer lenses to be similar in shape to the ones in our Ferraris, only our cars have the centers cut out for the rest of the gauge. The old method was to hand cut these centers until Tom applied his talent and machine to these lenses when he needed a set for his car. He created a jig that he could mount in his mill so he could repeat the process of cutting these lenses out over and over with very accurate results. You may remember when Tom first made these lenses available.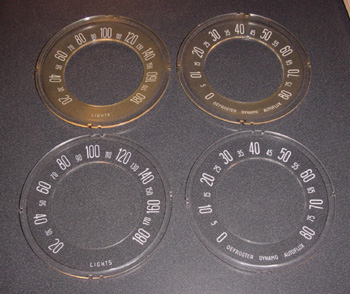 It's beautiful how these gauges turned out!
Tom and I talked about all the possibilities we have with his CNC machine and I was getting excited about what we could make for our old Ferraris. Can you think of anything you want made?
The visit to Tom's home shop was not the only thing I did in Mooresville. I also had the opportunity to see what this Ferrari enthusiast does for a "day job," but you'll have to wait until the next post to see!
Previous Restoration Day
Next Restoration Day
Home page