Marking the Grille, Mounting the Cavallino
6/10/05
Marking the Grille, Mounting the Cavallino

Before I begin the process of polishing all the pieces to my grille, I need to mark the parts so I can put it all back together. The original pieces were stamped with individual numbers, and I decided to follow their marking system. This vertical piece is 9 out of 13 pieces. with four more long horizontal pieces making up the grille. The #43 must have been a sequential number Pininfarina used to keep these grille pieces together. I thought it could be the 43rd of the 50 330 America grilles, but it doesn't line up with where my car, #5053, sits in the sequence of 330 America. Whatever the case, I will remark all my pieces with the same markings.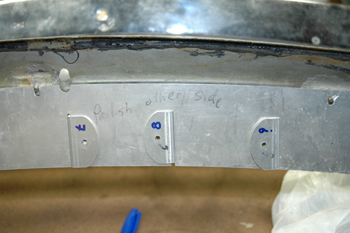 I marked all the pieces with a sharpie, following the same orientation as the original pieces.

I bought a stamp set several months ago in preparation for this event. It's not a super expensive set, but fine for stamping the soft aluminum pieces of my grille.

Here's a sample of the stamping on a piece of scrap. I had to practice keeping things straight on the final stampings! I'm also going to have to counter sink all the holes for the screws that will hold everything together. I will probably get a countersink tool along with stainless steel screws next week.

Before I took the grille apart for stamping, I noted and marked some pieces of the grille that could use some additional tweaking. This tab could use some relaxing of the bend because it doesn't follow the contour of the grille shell as well as the other pieces. When everything is apart again, it will be easy to fix this issue.

After stamping, I got to work fitting the Ferrari prancing horse emblem to the center vertical piece. I fabricated two small tabs from my scrap aluminum, and fitted them together.

Here's the Cavallino mounted in position poised to grace the front of the car for the first time in almost 30 years!
Previous Restoration Day
Next Restoration Day
Home page