Looking at a 4 Headlight
7/8/05
Looking at a 4 Headlight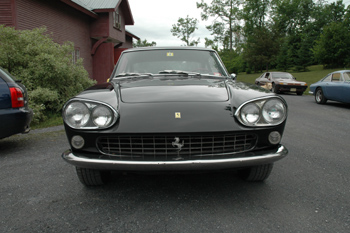 A few weeks ago, I heard about a four headlight car for sale in Vermont. The car was being sold out of RPM, a shop that deals with all sorts of vintage automobiles. Steve, the owner's son. often visits the Vintage Ferrari Forum (Stephanm) on this website, and we spoke about me driving up to Vermont to drive the car. We finally found a day to do it, so Yale, a fellow Ferrari owner, and I headed north from NYC to see this place called RPM.

After a 5 hour drive to Vergennes, VT, we found 5767 waiting for us. Cosmetically, she was a little rough, where the paint was thin in places from an older respray. and some rust was starting to show in the rockers. The bumpers were dented, and the exhaust was also rusty.

The interior had been redone in black vinyl, but it wasn't a bad job. There were no splits or cracks, and could easily last for years without having to redo it, as long as you can live with non leather seats. It seems odd to me that someone would spend the time, or pay for the labor to redo these seats at this level, and not spring for the extra two or three thousand to buy the leather.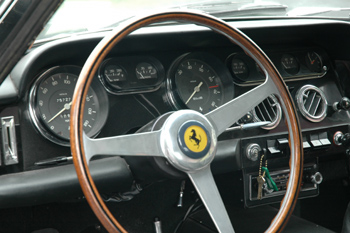 All the gauges seemed to work, and the steering wheel was in good shape. The odometer showed 75K miles.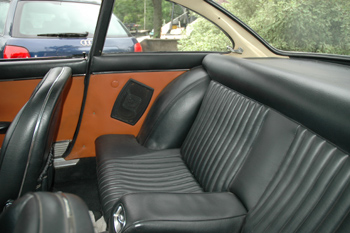 The rear of the car looked as good as the front, if not better, except for the tacky after market speakers cut crudely in the side panels.

The damage to the front door panels was even worse. Although suitable replacements of the ribbed panel can be bought from Danchuk, a 57 Chevrolet Bel Air supplier, the top stainless steel trim piece may be a little harder to find, and may have to fabricated. Was it really that important for people to hear some tunes in the 70s and 80s?

The engine compartment showed similar period modifications with an electronic ignition, and incorrect spark plug wires.

The carburetors also seemed wrong for a Series I 330GT 2+2. The early 330GT 2+2s usually came with an single long air cleaner with vents similar in shape to the ones pictured here, but I've never seen three separate air cleaners for a 2+2.
Incorrect or not, the carburetors and ignition seemed to have the car in good tune. She started right up from cold, and idled well.. Our test drive, confirmed a couple worn tie rod ends, but the rest of the suspension felt good and tight. No one knows if this engine had ever been apart, but there was no discernible smoke, and the oil pressure looked good. As I drove this car back to the shop, I again confirmed that these cars are truly under appreciated, and this one would make a great entry point into the world of Vintage V-12 ownership, and at $45k, a pretty good deal.
Coincidentally the day before I was going to Vermont, I got a call from a guy I met in Monterey last year. He had just called Steve at RPM, and told him he was interested in the 330. As they talked about the car, it was told that I was coming up to look at the car, so from there, I got the call. I agreed to take a closer look at the car for the buyer, so the trip had a little more purpose than a visit and a test drive. So far, if things go well, it looks like I found a new Vintage Ferrari owner!
Previous Restoration Day
Next Restoration Day
Home page