Monterey Historic Races
8/20/05
Monterey Historic Races

I didn't get to The Monterey Historics as early as I used to, but arriving at 8 am was still early enough to watch the race cars get uncovered. Yale Evelev, a fellow Ferrari owner, came with me from NY, so we walked about the cars stopping at anything that piqued our interest.

I like getting to Laguna Seca early before the crowds. It's quiet at the track, and many cars are covered in dew.

It's also a great opportunity to get clear shots of the car without people standing in the picture.

Many of these cars are of show quality, but that doesn't stop their owners from driving them on the track.

This car is owned by Jim and Sandy McNeil, the couple I met at the luncheon on Thursday. Yes, it's a real one! A 289 competition Cobra, and Sandy drives the heck out of it!

It was fun to root for a car on the track, having met the owners!

Here are a couple of other Ferraris during practice.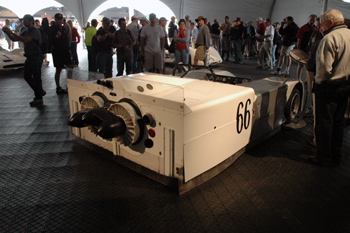 A special event at Laguna Seca this year was a display of Chaparral race cars. These cars were designed and built during the early days of aerodynamic understanding, and they were one of the innovators. Here's the famed "Sucker car" that utilized two fans in the rear to suck the car to the ground as it went around the racetrack. This made designers realize how much down force could play a major role in the traction of a race car. It worked well enough that this car was soon banned from competing.

Although race cars use function over form, occasionally, the form of these cars are beautiful!

It was nice to see the all the Chaparral cars on the track for demonstration laps.

The Sucker car was out on the opposite end of the track to the other cars, perhaps to keep the sucker fans from sandblasting the cars behind it!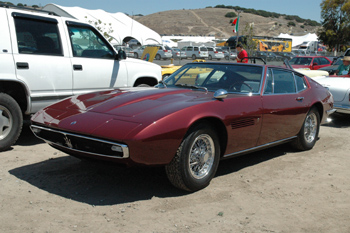 Parked around the track, fans bring their cars, and some of them are pretty nice. Here's a pretty Ghibli.

Near the end of the day on Saturday, Bobby Rahal took the checkered flag in his class with this 250SWB. Rahal was a last minute driver change, and once he passed the leader from the first few laps, he ran away with the race. It's no wonder, as he was driving a good car, and had some previous experience driving on this race track!
As we stood at a fence looking at Rahal on the track, Yale started chatting with a guy next to him. This often happens at Laguna Seca since we're all fans of vintage race cars, and usually have a lot in common. This guy tells us in his Budweiser induced speech that he's a metal fabricator in Southern California. When he returned with his 3rd or 4th tall-boy can of Bud, he explained that he works primarily on Ferraris and owns his shop. As I suspiciously question his abilities, it becomes apparent that he's not bull shitting us, and actually knows his stuff. Soon, we realize we know the same people, and the guy says,
"Wait, a minute, you're not that guy that runs a website, that Tom Shaughnessy wants to bring by on Monday to my shop?"
Several weeks ago, I planned with Tom Shaughnessy to drive down to San Clemente to see his collection of Ferraris, and Ferrari parts. It would be a short visit, but a chance to see what he was up to before heading back to NYC from LAX. Evidently, Tom had arranged for a little side trip of interest as a bonus. Steve Beckman, of Beckman Metalworks, laughed at the coincidence of this meeting, and realized we had an opportunity to play a trick on Shaughnessy. Steve told me that when Tom mentions the side trip, tell him I don't want to see his metal fab guy, but rather a better one. Then show him Beckman's card. It sounded like a good joke because Shaughnessy loves to be the know-it-all of anything Ferrari! I told Steve, I would try my best to pull it off, but Tom was not an easy mark!
After all the racing was done, Yale and I stopped by a fellow Ferrari owner's campsite for some drinks. Although Rad Bartlam is a BMW racer, but owns a GTE that he's restoring. He tries not to mention either affiliation to the other camp, but Saturday afternoon, exceptions were made, and we were allowed to join the BMW guys for some home made wine. When I say there's home made wine being drunk, don't assume it comes out of a jug, Rad makes some nice wines from a vineyard he tends himself!
Thanks Rad, and I'm sure I'll be there next year to sample another case!

As much as I wanted to stay all night, I had to leave the campsite at Laguna Seca, and head over to Len Miller's house in Pacific Grove for the Annual 250GTE Cocktail party. The party was from 5-8 and we would arrive very fashionably late at 7:30! Michael McClure was the only one who brought a Ferrari, but it made up for lack of cars in quality! His GTC was beautiful despite his self deprecating opinion!
Upon entering Len's house, I was pulled aside by the host, and asked to join them for dinner. I was flattered by the offer, and had a wonderful meal at an Italian restaurant in Pacific Grove. Len and I discussed Vintage Ferraris, and plans for the possibilities for future shows and events. I was honored to have him interested in my opinion, especially when seated at a table with people like Gerald Rousch, the publisher of Ferrari Market Letter. It was a very enjoyable dinner, and I thank Len Miller for inviting us!
As I went to sleep at midnight, a little drunk, and very tired from a full day, I marveled at the contrast of things I did in one day. I set the alarm for 6 am, and hoped I could sleep fast!

Previous Restoration Day
Next Restoration Day
Home page