Motel Disaster, and Pebble Beach
8/21/05
Motel Disaster and Pebble Beach
"Tom, wake up. We're flooded."
"Huh?"
"Wake up. We've got a flood!"
Yale woke me from my brief sleep at 3 am to show me water slowly creeping across the carpet out of the bathroom area of our room. I heard the sound of water running, and thought the toilet had flooded. As I got my bearings, I soon realized the water was running from under the sink. Looking under the sink, I found the flex hose to the cold water had busted open. Figuring this could be an easy fix so I could get back to sleep, I went to turn off the shut-off valve.
"I tried that already." was Yale's response.
As Yale went to get the management, I realized this was not going to be an easy fix, I started packing my bags knowing we would have to be moved to another room. 20 minutes later, the owner of the hotel confirmed my suspicions, but told me there were no rooms available at our motel and they would have to move me to another place in Pebble Beach!
I sleepily followed the owner in my car to a rental house they owned in Pebble Beach, and crashed in a bed for two hours before I needed to get up, shower, and head to the Pebble Beach Concours D'elegance. Needless to say, we were pretty tired, but headed out to the golf course.

Alfa Romeo was the featured marque, and there were some beautiful examples.

Their shapes are simply stunning.

Eventually, I made it over to the Ferraris, and started taking pictures that caught my interest.

It's getting hard to keep track of the cars, and their owners, so please just enjoy the pictures!

I believe the owner of this Lusso is on the left, as he is the most nervous as the judges inspect the car.

The engine bay in spotless.

And the horns are painted exactly the right color and gloss.

In a show like Pebble Beach, a 275GTB can look pedestrian, when compared to GTOs, and Superamericas.

This one was very well presented, and held her own.

I of course, could not but help look at all the varieties of Ferrari grilles!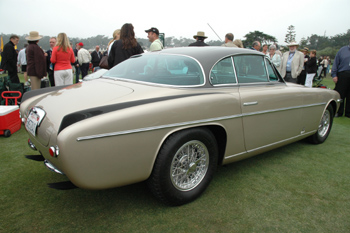 I love the color combination of this car along with the green tinted windows.

Here's another pretty color combination.

An interesting detail in this Boano is the Italian Marrelli electric fan fitted stock to this car. Most I've seen were British Lucas units.

As much as I like the 60 Ferraris for being user friendly, I love the design of the 50s vintage. The painted dash and simple layout make for pretty interiors.

Celebrity spotting had me snapping this picture of a fellow Ferrari restorer. Brian works for Patrick Ottis in Berkeley, CA, and was being interviewed about the several cars they were showing at Pebble. Occasionally, you'll see a post or two from Brian on the tomyang.net message board.

Here's François Sicard sporting a new beard (closer to the camera) sitting with Lawrence Arianna in his Alfa.
After a long day, we headed back to the motel to move into a new room. As I checked back in, I asked what the management was going to do about the flooded room, and the lost night of sleep. I couldn't believe that the initial response was nothing! Since I was staying for five nights, paying elevated room rates because of the special weekend in Monterey, I felt it was only fair to be refunded that one night. I left my phone number with the manager, and waited for a response from the owner. Unfortunately, I had to take it to a higher authority when they only offered a small discount for my trouble. I can only hope this matter gets resolved, or else I'll absolutely tell where NOT to stay in Monterey!
Previous Restoration Day
Next Restoration Day
Home page